Prize Awards 2017 - Secondary
At Greenhill Academy, we aim to groom a well-rounded student excellent in both academics and co-curricular activities. In order to motivate and encourage our students to excel in these different spheres of life we award them for being outstanding.
This year's Greenhill Academy Secondary School Prize Award under the theme, "For Success, Attitude is Equally as Important as Ability" saw over 43 students take home certificates and prizes for being outstanding in various areas ranging from sports, academics, oratory skills, social responsibility to mention but a few. The four most important categories of this year's event; Mathematician of the year, Academician of the year, Student of the Year and the Ubuntu Award were scooped by; Tewelde Bsrat Siele S.3, Mubaraka Zohair Rawat S.6, Kakembo Monica S.4 and Ssenabulya David S.6 respectively.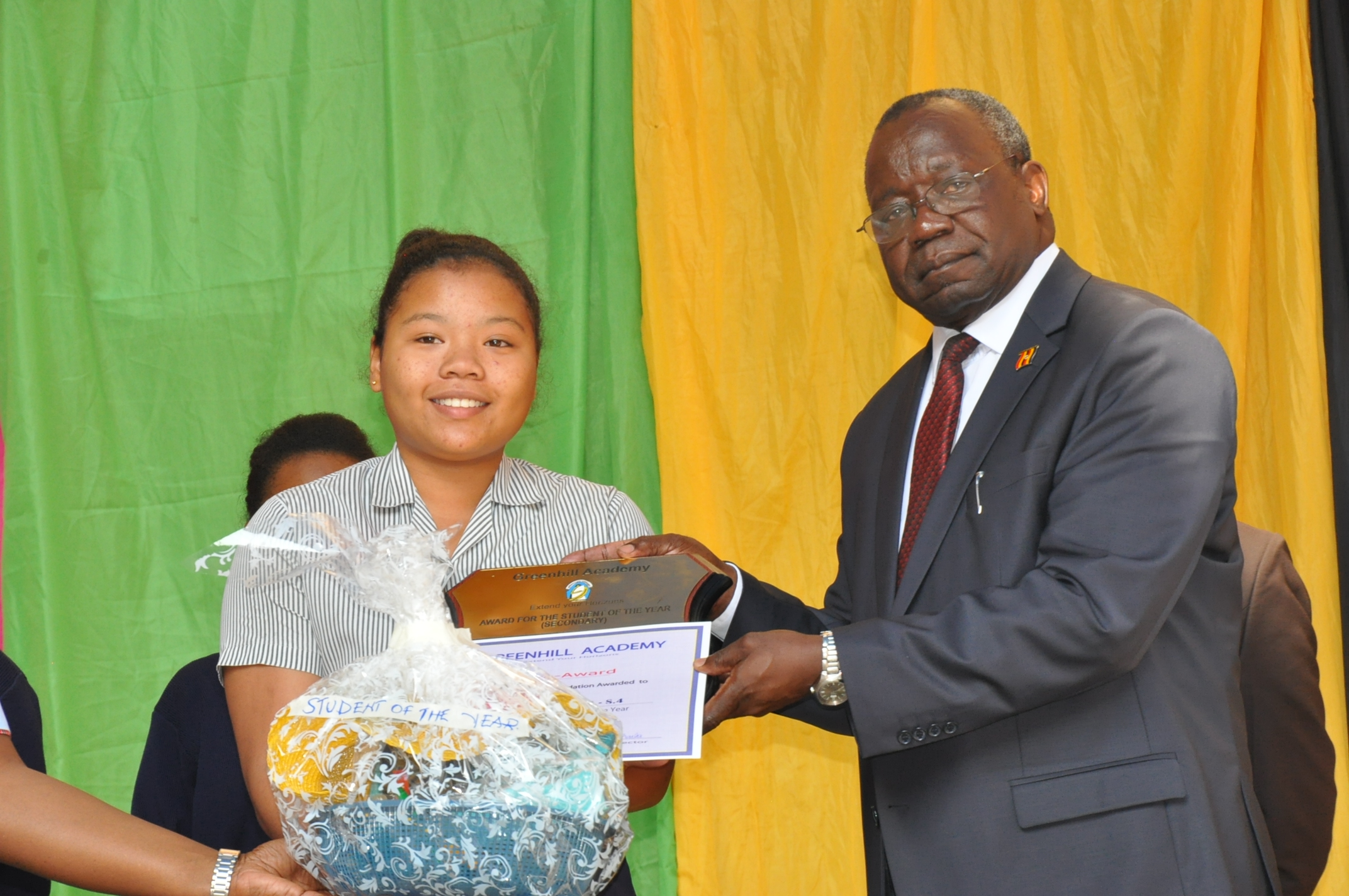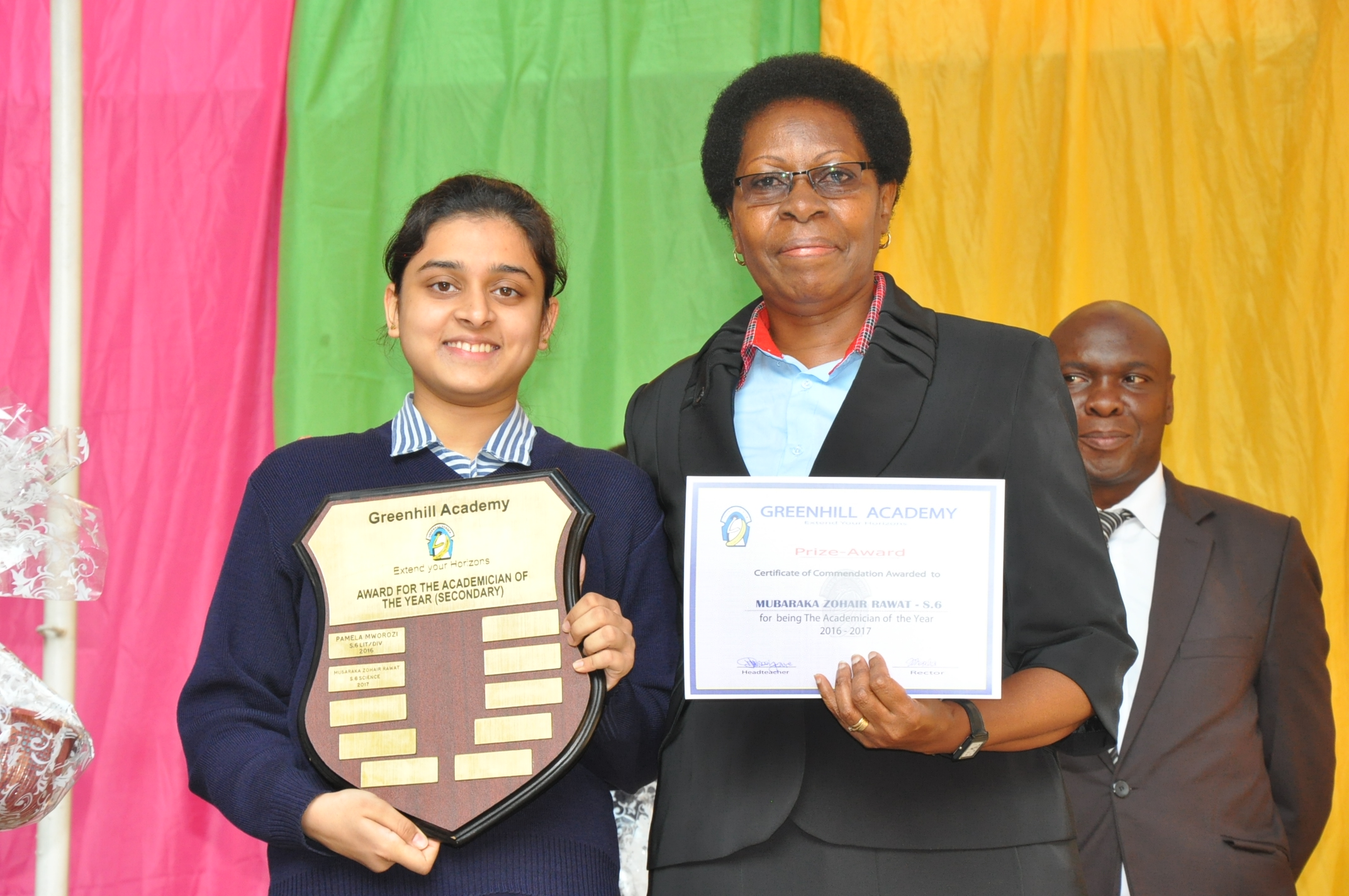 The prestigious event was also graced by the presence of Mr. Dan Nokrach Odong, the Executive Secretary of UNEB. Before his very inspiring speech, Mr. Dan, also a passionate rugby player in his early school days was welcomed in style by the rugby team who staged the famous Haka dance.
In his speech, Mr. Dan highlighted the great need for all of us to set goals for ourselves both in academics and other spheres of life. He further expounded on the theme of the day, emphasizing the two most important aspects of success- Ability and Attitude and the need for one to combine them should they want to get to the top, "You need the right attitude to do something well".
We would like to congratulate all the outstanding students and thank the school administration and parents for the great support they have rendered to these students. To all the other students; you too can achieve this, keep working hard and aim to always be the best in whatever you do.
Below is a full list of the awardees of this year's Greenhill Academy Secondary School Prize Award Ceremony.
GREENHILL ACADEMY SECONDARY

PRIZE- AWARD; YEAR 2016 – 2017

AWARDS

WINNER

Best female swimmer

ISENGED BETHIA S.6

Best male swimmer  

ORYADA MATHEW  S.6

Outstanding Basketball player

TUT STEPHEN S.4

Outstanding Rugby player

KAMILO WANI S.5

Outstanding Football player

SSERUGUNDA EDWARD S.6

Outstanding Girls' soccer  player

NAMONG PAMELA JOHN S.4

Outstanding Cricket player

SARAL PATEL S.1

Female Athlete of the year

NYANATHUOI AKEC CHONG S.2

Male Athlete of the year

BUTROSE ASHOLI  S.4

Male Sports Personality Of The Year.

KAMILO WANI JADALA S.6

Female Sports Personality Of The Year.

ISENGED BETHIA IDA S.6

Outstanding Performing Artist

KASIRYE FELIX S.6

Outstanding school Envoy/ Marketeer

BIRAARO DANIELLA S.6

Neatest 'O' Level Student

ANKUNDA IHORERE

Neatest 'A' Level Student

NTAMBI MARVIN S.6

Most Adjusted National Student

TWEHEYO MIRIA S.6

Most Adjusted Foreign Student.

RAMEEL MARBOOB S.4

Ardent Student For All School Programmes

AGASARO TRACY S.6

Best Library User 'O' Level.

Best Library User 'A' Level.

INEZA NICE  S.4

BARIGYE BRENDA  S.6

Ardent Reader Of  The Year

NAHOM DIGLEL S.2

Outstanding Club Member.

TUMUSIIME BOB ROBERT  S.6

Outstanding Public Speaker/ Debater

KAKEMBO MONICA S.4

Outstanding Assembly Presenter.

HAMISA FARUKI S.3

Most Persevering Student For The Year

MUCHUNGUZI MARK S.6

Outstanding Fine Artist Of The Year.

KARUNGA JEAN S.6

Most Socially  Responsible student of the year

LADU JUSTIN S.4

Most Disciplined Student Of The Year.

ASTA GLADYS S.3

Most Supportive Student

SSENABULYA DAVID S.6

Most Supportive Parent

ENG. PATRICIA NYIKWERA

Student Leader Of The Year

ODADA MATHEW ORYADA S.6

Most Academically Improved Student  ['O' Level]

 

ALUEL ANGELA S.3

Most Academically Improved Student   ['A' Level]

 

MUGUMYA JASON S.6

Academicians For Each Year Group.

Senior One

Senior Two

Senior Three

Senior Four

Senior Five

Senior Six

 

VEKARIYA AVANTI RANJI S.1

BINIAM FILIMON ANDOM S.2

TEWELDE BSRAT S.3

ANKUNDA ADNAN ADDI S.4

MWAZEMBE SAMUEL S.5

MUBARAKA RAWAT S.6

Mathematician Of The Year.

TEWELDE BSRAT SIELE S.3

Academician Of The Year

MUBARAKA ZOHAIR RAWAT

Student Of The Year.

KAKEMBO MONICA S.4

Ubuntu Award

SSENABULYA DAVID S.6
Extend Your Horizons
Irene Esther Mutuzo (Miss)
Public Relations Officer
Greenhill Academy Schools