Prize Awards 2017 - Primary Kibuli
On the 3rd  of October 2017 and 5th of October 2017, our Primary Kibuli Campus, recognized their most outstanding pupils in the lower section  (Nursery to Primary two) and the upper section (Primary three to Primary seven) respectively, both under the theme 'Harvesting with Joy' from  Psalms 126. 5 - 6.
The prestigious events that also highlighted the pupils' dance skills through creative dances presented saw outstanding pupils in the categories of Academician and Mathematician of the year, Swimmer of the year, Students with the most improved academic performance, confident speaking to mention but a few walking away with certificates and some winning themselves Aristoc book coupons worth UGX. 100,000 each.
The Lower section's event was graced with the presence of the cabinet Minister of Health, Mrs. Ruth Achieng and the Guest of Honor, Mrs. Sylvia Muweebwa Ntambi; a parent of the school, a brilliant lawyer currently working with Equal Opportunities Commission who has worked for the Law Development Center as a lecturer for 10 years and various organizations like the National Planning Authority and USAID as a technical advisor.
Mrs. Sylvia did the honor of presenting certificates and shields to the Mathematicians of the year; Kiyingi Mark Ishva P.1 Blue, Kyeyune Janell P.2 Green and the Academicians of the year; Ayo Mikaella, P.1 Blue and Ssenyange Kenneth, P.2 Green.
In her speech, Mrs. Sylvia stressed that she has never regretted her choice of bringing her children to Greenhill Academy because the school has groomed them into very God fearing children. She encouraged parents to conduct themselves with integrity, transparency and accountability as well as, also instill these important values in their children.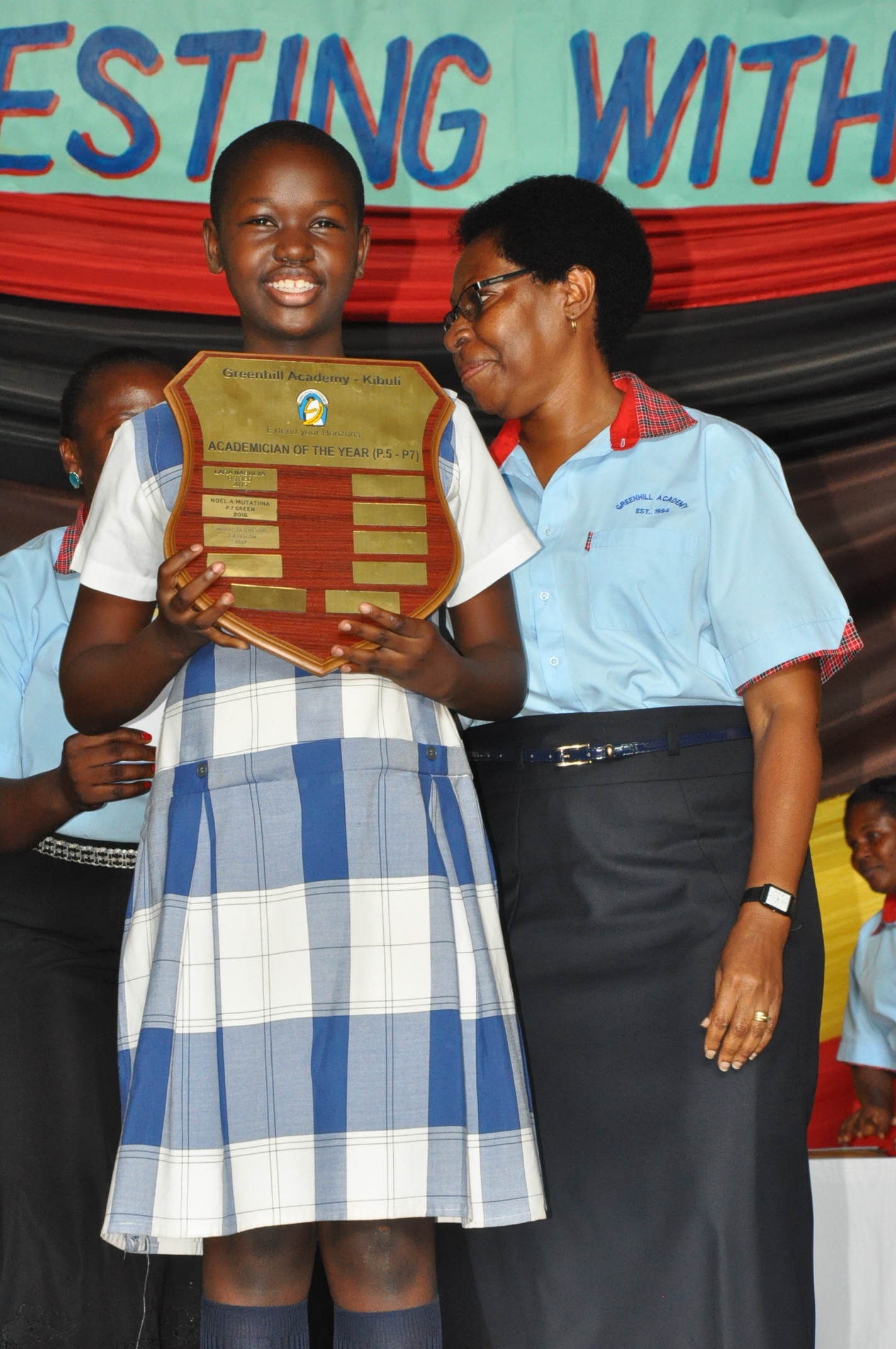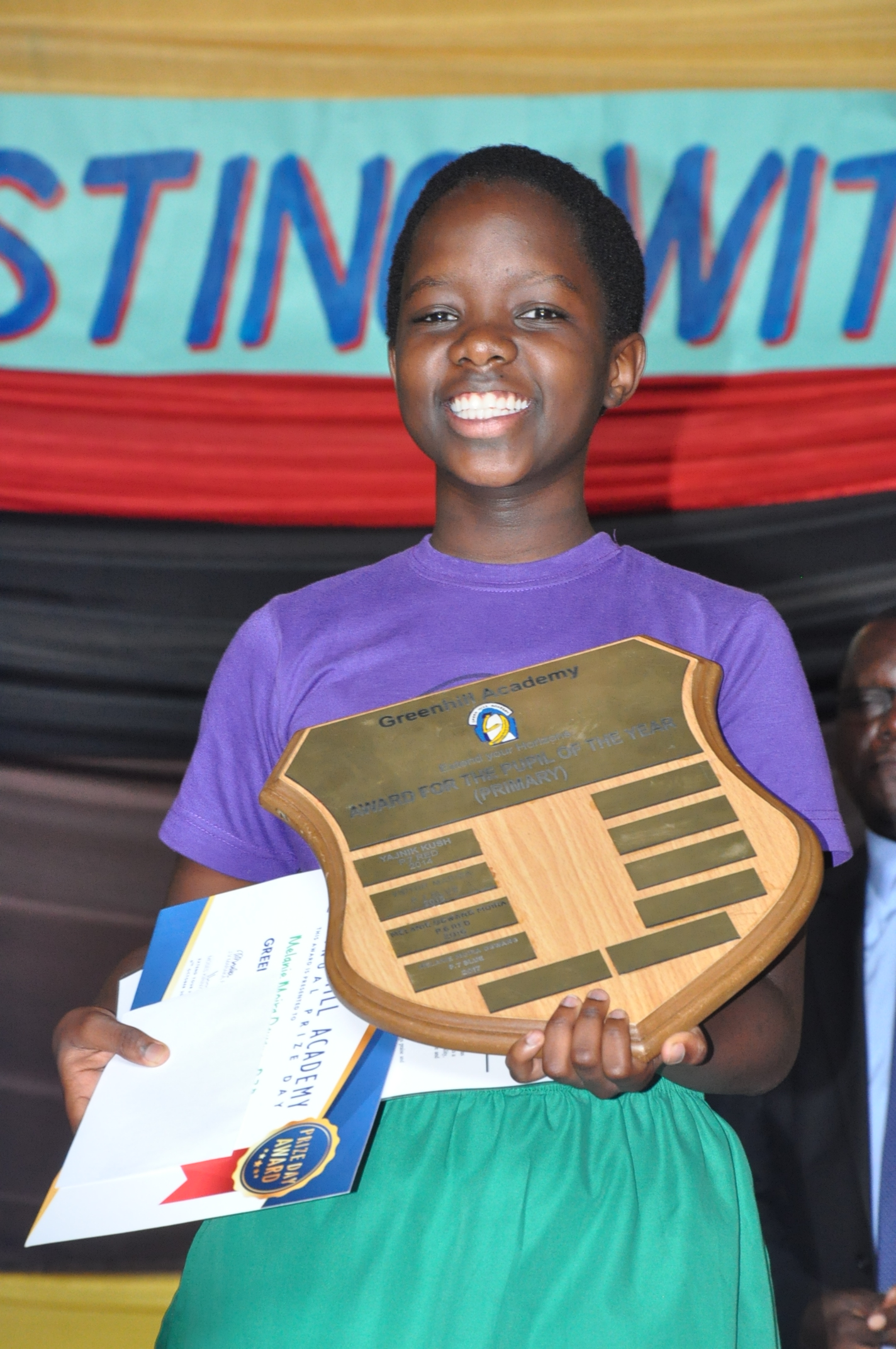 The Upper Section's event was honored to have its Guest of Honor as Mr. Serunkuma Samuel Bbosa, the Deputy Director of Kampala City Council Authority and a parent of the school who also awarded certificates and shields to the Student of the year, Melanie Ogwang and the Ubuntu Award winner Chatherine.
In his very enlightening speech, he urged the audience to always aim for excellence and went on to highlight some of the barriers of one's journey to excellence that one needs to beware of like; lack of confidence, poor personal management and lack of personal responsibility.
We would like to congratulate all the awardees of this years' prize awards as well as, the teachers and parents that have done a great job as far as grooming these pupils is concerned. To those that were not awarded, we encourage you to keep striving for the best; one day you too will be an awardee.
Below is the full list of all the awardees of Greenhill Academy Primary, Kibuli Prize Award 2017.
PRIZE AWARD LIST FOR NURSERY –PRIMARY TWO 3RD OCTOBER, 2017
NO

CATEGORY

NAME OF STUDENT

Class/Stream

1

BEST SWIMMERS  OF THE YEAR

 

 

 

 

EWOMA  EJIRI BELLA                           

Nursery Blue

JEMBA  MOSES SSEMBATYA              

Nursery Purple

MWIZA HARAH                

Pre- Primary Green

TUSIIME MARVIN           

Pre- Primary Y

SARAH KAYLA  ALIZA

P.1.Y

OCHIENG LUGARD        

P.1.P

OPOLOT JOAN

P.2.R

MANDRE JOSHUA DRAGU     

P.2.B

2

SPORTS WOMEN OF THE YEAR

 

 

 

MIIDEYO  BOTRWOT  KAYLA 

N.O

NSANGI FIRIDIUS                  

PRE-R

NANKINGA SHAFIA               

P.1.P

NAKAZIBWE LANA               

P.2.B

3

SPORTSMAN OF  THE YEAR

ABDU-MALIK SSENYANGE    

NUR.S

KEGAN HARRIS MONIE        

PRE- Y

AMANYA  KOSHABA            

P.1.Y

NOBEL NGOBI                     

P.2.Y

4.

THE BEST DANCER

LEONA NAMUBIRU              

BRIANA NAMATA

N. O

PRE-G

MWESIGWA PALMA            

P.1.B

SAASI KIBENDE   

P.2.Y

5

FOR ACTING AND PERFORMING IN PLAYS

SSEKISAMBU JAYSEN                  

NUR.Y

ASIO EMMANUELLA DEBORAH    

PRE-P

ASIANZU CHRISTIANA                

P.1.B

SSERUNKUMA ISREAL                

P.2.G

6

 THE FINE ARTIST OF THE YEAR

TRAVIS DOMINIC BIATO 

N.S

ARIHO JONATHAN                     

PRE.P

MWESIGWA PERSIS FAITH         

P.1.G

TRIMO BIATO                            

P.2.R

7

HAVING A NEAT HANDWRITING

ANWITHA HAREESH                   

N.G

KASASIRA  ATUGONZA MARTHA

PRE.Y

OMARA NICHOLAS                    

P.1.Y

NAKIYINGI MILLY                       

P.2.Y

8

A ROLE MODEL TO OTHERS

NABAGGALA FORTUNANTA.M 

NUR.P

KAREN GESSA MIREMBE

PRE-G

BAKYIRA DEBORAH                  

P.1.Y

KISAKYE NAAMALA ANGEL      

P.2.G

9

FOR BEING RESPONSIBLE AND HELPFUL

CHERONO ALLISON               

N.G

JERUTO JOY JOHN                 

PRE.P

SOOMA TAJ                           

P.1.G

EDAN AYESIGA                       

P.2.Y

 

 

10

FOR SPEAKING WITH CONFIDENCE

 

 

 

 

 

 

 

 

EWOMA EJIRI BELLA              

N.B

RIGEL MUSTAFA                     

N.P

ATUKUNDA LIAM LUKE          

N.G

MARAKA DANIEL                                

N.S

ELA INE ARINDA DORCAS      

N.O

JOWELLA KIRABO                               

N.R

EJUNA EVANIE PEACE                        

N.Y

AGUME BARAKA LEO 

PRE-B

KHLOE KEZA MARIE            

PRE-R

TWINE EMMANUEL              

PRE-P

MUKWAYA DANIELLA        

PRE-G

SEMUGOOMA DYLAN DAVID

PRE-Y

JURU SARAH                           

P.1.Y

AINEOMUGISHA CHRISTIAN   

P.1.P

BAHIRE BRIANA                   

P.1.B

LUWANGULA BISHIR LUWAGA

P.1.R

SSEKANDI MICHELLE          

P.1.G

NTAMBI BRENNAN                

P.2.Y

ATUGONZA EDLYN                 

P.2.G

BYORUGANDA JOSHUA         

P.2.B

MBAFUGA ETHAN                  

P.2.R

ITUNGO ORNAN                        

P.2.P

11

FOR MAKING WONDERFUL PROGRESS THIS YEAR

 

 

 

 

ELIANAH KAYEMBA           

N.B

ADRIAN CYRUS REX           

N.P   

NAKATO HUMAIRAH MUNUBI

N.G 

ANKUNZIRE NICOLE     

N.S

GABRIELLA MUSOKE BABIRYE

N.O

ANAYA CHRISTIANA  MULUNGI

N.R

MOKSHA PATEL          

N.

MAITUM JAYDEN ENGENA     

PRE-B

MUKALAZI  PATRICK             

PRE-R

NAYIGA JANELLE  GLENNA                    

PRE-P

TRAVIS MUMBIA                     

PRE-G

AKIROR ZOE MALAIKA             

PRE-Y

ZHANG  NIKE                                

P.1.R

NDIKO  GAVREIL                          

P.1.Y

NKURUNZIZA HANNAH KWEZI                       

P.1.B

OTIM  JASON                               

P.1.P

MUWANGUZI  ISAIAH                

P.1.G

ANYINE JIRAH                                        

P.2.Y

KIGOZI AARON                                      

P.2.P

MWESIGWA SEBBA JEREMIAH          

P.2.G

OCERO MICHELLE                                

P.2.R

ATWIINE JORDAN                                   

P.2.B

12

BEST ADJUSTED PUPIL IN CLASS

SIDDH ABHINAV                                    

N.R

13

FOR BEING THE BEST CLASS CAPTAIN OF THE YEAR

NALUMANSI JANE FRANCIS  

N.Y

NAMALE ALEXA                       

PRE.R

KABENGE CRAIG SENDAGIRE

P.1.P

OPOLOT JOAN                        

P.2.R

14

FOR READING MANY LIBRARY BOOKS

ATUKUNDA PEARL                      

P.1.B

SERUFUSA KAAYA GAITA           

P2.G

15

FOR BEING CONFIDENT AND A FLUENT READER

TALINDEKA JETHRO                  

N.B

OSIRU JOHN JOSIAH                 

N.P

SEMPA EMMANUEL                 

N.G

MUKISA PAYTON WAAKO 

N.S

MULUNGI ETHAN                     

N.O

GABRIELLA TENDO NANYANZI             

N.R

NAMATA AMBERYN              

N.Y

NALIKA MANUEL NSUBUGA   

PRE.B

NAMALE ALEXA

PRE-R

BEEKALAZE EMOR                    

PRE-P

NAKATO KAYLA MUSOKE    

PRE-G

KASASA EDRICK GIDEON                    

PRE-Y

NANZIRI SHALOM               

P.1.G

SSEMATIMBA SYDNEY         

P.1.P

AMPEIRE TIFFANY            

P.1.R

DDUNGU NATHAN               

P.1.B

SSEKASI PHILEMON ELIJAH             

P.1.Y

EJIRI JOY                                 

P.2.Y

KATIMA RUTH                      

P.2.G

AKAZUBA MICHELLE             

P.2.R

BUWURE WHITNEY              

P.2.P

ASASIIRA SHANE                   

P.2.B

16

BEING THE BEST ACADEMIC PERFORMER

 

 

 

KIGONYA GEORGE          

P.1.R

AYO MIKAELLA

P.1.B

NANYOMBI PHILLIPA

P.1.Y

KAGGWA WILLAM

P.1.P

MUKOOLI JESSE

P.1.G

SSENYANGE KENNETH

P.2.G

NAMPALA AGATH

P.2.R

ACIRO LILLIAN

P.2.Y

MIREMBE FAITH

P.2.B

NAMWANGA MARIANAH

P.2.P

17

BEING THE MATHEMATICIAN OF THE YEAR

1.KIYINGI  MARK ISHVAH

P.1.B

2.KYEYUNE JANELLE

P.2.G

18

BEING AN OUTSTANDING PERFORMER

1.AYO  MIKAELLA                      

P.1.B

2. SSENYANGE KENNETH    

P.2.G
PRIZE AWARD LIST P.3 –P.7 FRIDAY 6TH OCTOBER 2017
NO

CATEGORY

NAME OF STUDENT

Class/Stream

1

BEST SWIMMERS

PER CLASS

NAKATO ROCIE ANGEL

P.3.Yellow

CRAIG JAMWA

P.3 Red

MARK SAGALA

P.4Green

NTEGEKA CRYSTAL

P.4.Green

RUTAYISIRE MARTIN

P.5.Green

MUSISI SAMALIE

P.5.Purple

NKESIGA SIMON

P.6.Blue

NAKIYINGI  SERUNKUMA CATHERINE

P.6.Yellow

MUKISA  DARREN

P.7.Yellow

ATOO ESTHER

P.7.Purple

2

SPORTS WOMAN OF THE YEAR

NANGENDO ESTHER

P.5.Green

3

SPORTS MAN

AMPE AARON ATAMBA

P.6.Blue

4

BEST  FINE ARTIST OF THE YEAR

MUSISI SAMALIE

P.5.Purple

5

THE BEST STUDENT IN NATIONAL MATH CONTEST 2017

MELANIE  MOIRA OGWANG

P7.Blue

6

FOR ACADEMIC IMPROVEMENT

 

 

 

 

ASHABA ALEXA LUCIA

P.3.Red

NATSABWANA PAULYN

P.3.Yellow

SSEBUNYA ELIZABETH

P.3.Purple

TURINAWE JOSIAH

P.3.Green

NSUBUGA ERIC

P.3.Blue

DACIA MURUNGI

P.4.Green

CLARKE SSEKADDE

P.4.Yellow

MARIA TULINA

P.4.Red

SHAUN LUBANGA

P.4.Purple

MARVIN BERHAN

P.4.Blue

OSIRU JOSHUA

P.5.Purple

NSIBIRWA GLADYS

P.5.Green

KAGYEZI MWESIGA

P.5.Blue

NAMAGANDA HUSNAH 

P.5.Yellow

NYANZI ISAAC 

P.5.Red

MUTEBI SHIFAH

P.6.Yellow

KIYINGI CARL BOSA

P.6.Green

NAGUYO ALVIN     

P.6.Blue

BUWEMBO JAMES

P.6.Red

ANKUNDA SUNITA 

P.6.Purple

KIGGUNDU W.K CATHERINE

P.7.Blue

KARAMAGI CHRISTIAN

P.7.Yellow

DAVID GABRIEL OCAILAP

P.7.Purple

BASAJJA HAMZA

P.7.Green

ADRIAN.M. I. NKAMBA

P.7.Red

7

THE  BEST ACADEMIC PERFORMER

 

 

 

 

 

 

 

 

 

BYARUHANGA PEARL 

P.3.Red

WAGUBI CLIVERT

P.3.Yellow

AWISS VEGARD NOBLE

P.3.Purple

MAZEREBA JOHN  PATRICK

P.3.Green

PRETTY NIKITA ZAKE

P.3.Blue

GABRIEL LUBEGA

P.4.Blue

HANASAYE HANNAH

P.4.Green

ANNA- MARIE MBALU

P.4.Red

MEGAN ADIKINI

P.4.Yellow

JARED MUSINGUZI

P.4.Purple

LUMALA SAMEERAH 

P.5.Purple

WATMON ROBERT

P.5.Red

NABIRYO DESTINEY

P.5.Yellow

MUBIRU VICTOR

P.5.Blue

NANGENDO ESTHER

P.5.Green

MODESTA CHEROP

P.6.Yellow

SENFUMA EMMANUEL CALVIN

P.6.Green

BUWEMBO JAMES

P.6.Red

NANZIRI SUSAN

P.6.Purple

NABULYA LARA CHERIE 

P.7.Blue

AYESIGA MARVIN

P.7.Yellow

NASSUNA  GRACE JANISHY

P.7.Purple

NAKITENDE SAVANNAH ABIGAIL

P.7.Green

TEVIN WATASA MATHEW

P.7.Red

8

THE BOARDING PUPIL OF THE YEAR

MUKISA DARREN

P.7.Yellow

NASEJJE KRISTIE

P.7.Purple

9

THE MOST DISCIPLINED PUPIL OF THE YEAR

KIRABO AMELIA NABBOSA

P.3.Green

KARENZA  OBWANGA

P.4Blue

KEMIGISHA RHIANNA  BLESSED

P.5.Purple

NAKIYINGI SERUNKUMA CATHERINE 

P.6.Yellow

AYESIGA MARVIN

P.7.Yellow

10

MATHEMATICIANS OF THE YEAR

MUKISA GLEN JEREMY

P.3.Red

MUSENZE RODNEY

P.4.Green

LUKODA ARTHUR

P.5.Purple

MODESTA CHEROP

P.6.Yellow

11

SOCIAL STUDIES PUPIL OF THE YEAR P.4 –P.5

KIMULI JOEL SENGENDO      

P.5.Purple

12

SOCIAL STUDIES  PUPIL OF THE YEAR P.6- P.7

OBURA JOHN MARK   

MODESTA CHEROP     

P.6.Yellow

P.6.Yellow

13

INTEGRATED SCIENCE PUPIL OF THE YEAR P.6- P.7

WETAKA TREVOR

MODESTA CHEROP

P.6.Yellow

P.6.Yellow

14

GREENHILL MATHEMATICIAN OF THE YEAR P.3- P.4

MUKISA GLEN JEREMY

 

P.3.Red

15

MATHEMATICIAN OF THE YEAR P.5 -P.7

NABULYA LARA CHERIE

MODESTA CHEROP

P.7.Blue

P.6Yellow

16

ACADEMICIAN OF THE YEAR P.3/P.4

NALUSIBA CHANTAL KASEKENDE

P.3.Red

17

GREENHILL ACADEMICIAN OF THE YEAR P.5- P.7

MODESTA CHEROP      

 

P.6.Yellow

18

GREENHILL PUPIL OF THE YEAR

MELANIE MOIRA OGWANG

P.7.Blue

19

GREENHILL OBUNTUBULAMU 2017

NAKIYINGI SERUNKUMA CATHERINE

P.6.Yellow
Keep Extending Your Horizons…
Irene Esther Mutuzo (Miss)
Public Relations Officer
Greenhill Academy Schools