Prize Awards 2017 - Buwaate
GHA BUWAATE PRIZE AWARD 2017
On the 10th  of October  and 12th of October 2017, our Primary Buwaate Campus, held their lower section  (Nursery to Primary two) and upper section (Primary three to Primary seven) prize award ceremonies respectively.
The lower section's ceremony that was also highlighted by breathtaking presentations from the pupils under theme, 'Never Give Up' had the Chairman of the Academic Committee Greenhill Academy, Buwaate, Professor Lutalo Bbosa in attendance.
The Guest of Honor was the Deputy Headteacher A'Level, Greenhill Academy Secondary, Mr. Wilberforce Kamengo who inspired the pupils never to give up through the Bible story of David and Goliath. 
Mr. Wilberforce also went ahead to award certificates to the academicians of the year in this section who were; Mugulusi Ivy-Kinder, Busingye Kiara Kyoma-Pre-primary, Sserumaga Ingnitius-P.1 and Mwanje Ethan-P.2.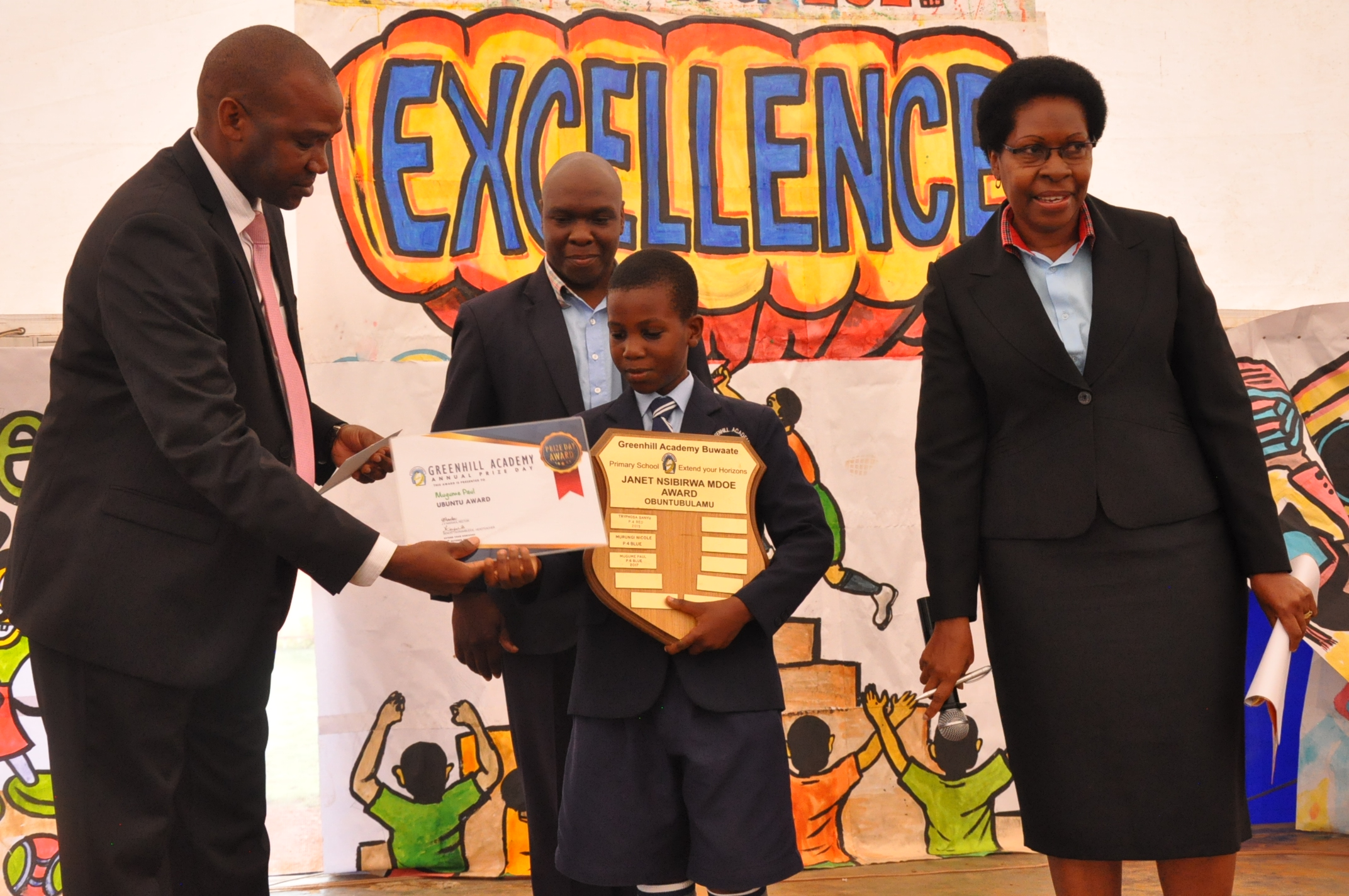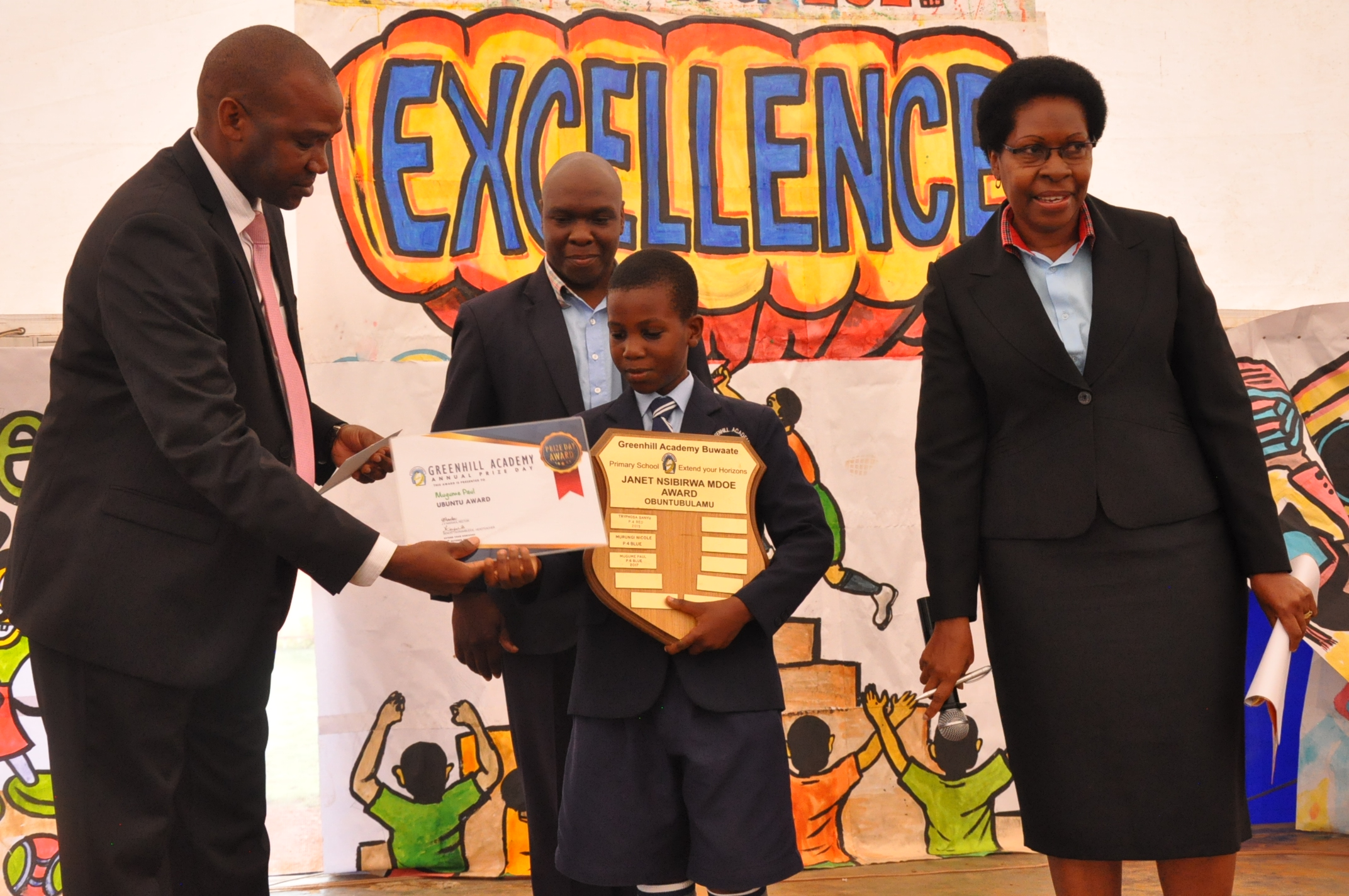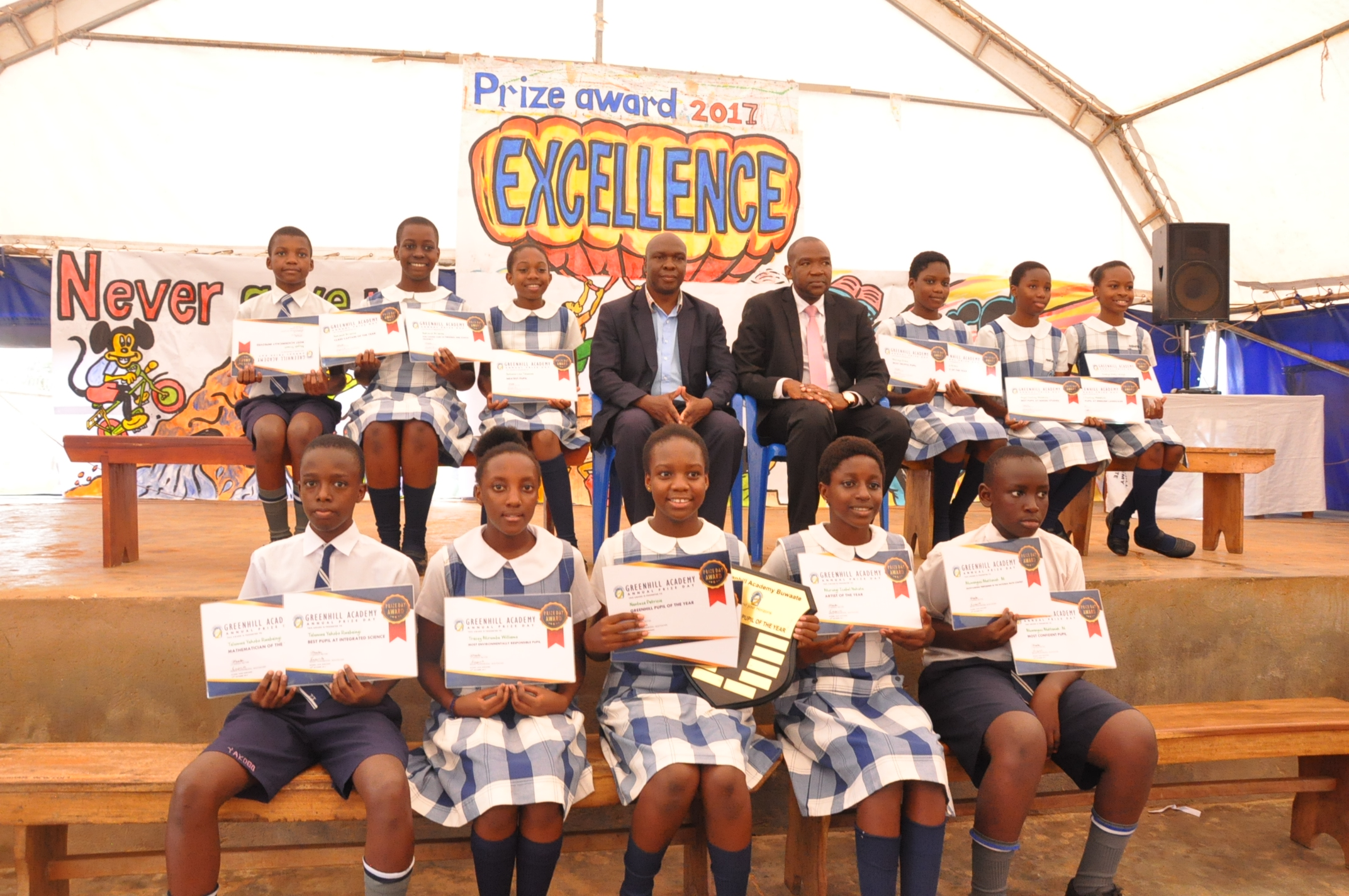 For the first time ever in this section of the Buwaate campus, Mwanje Ethan was also awarded a shield for his outstanding performance in Literacy one, Literacy two, English and Mathematics. 
The lower section's prize award was then followed by the upper section's ceremony held on Thursday 12th October 2017 under the theme, 'Excellence'.
In attendance was a member of the Greenhill Academy Academic Committee Buwaate-Mrs. Emma Lugujjo who awarded a shield to the Academician of the year, Namuli Keza, P.3 and the Guest of Honor Mr. Francis Twesigawe, the Head of School, Greenhill Academy Secondary.
In his speech, Mr. Francis encouraged the students to always aim for excellence, never give up and to work hard in order to enjoy the fruits excellence brings. He also did the honor of awarding shields to the Greenhill Pupil of the year, Nanteza Patricia (p.7) and the Ubuntu award winner also the Head prefect of the school Mugume Paul, P.6. 
We would like to congratulate all the awardees of this year's prize awards and the teachers and parents that tirelessly work hard to ensure the students achieve such great heights of excellence. To those that were not awarded, we encourage you to keep working hard until you too are awarded a shield or certificate for your outstanding performance.
Below is the full list of all the awardees of Greenhill Academy Primary, Buwaate Prize Award 2017
NURSERY-PRIMARY TWO AWARDEES
Category

Class

Name

Neatest pupil

Nursery

Darlene Destiny

 

Kinder

Businge Asher

Pre

Nantege Margaret

P.1

Kalende Samantha

 

P.2

Murungi Alicia

 

Pupils with the best handwriting.

Nursery

Kansiime Xavier

Kinder

Nabunya Sasha

Pre

Kalinaki Timothy Claude

P.1

Tendo Lenah

P.2

Nabukenya Hannah

Best reader

 

Nursery

Asianut Kimberly

Kinder

Ayak Mayen Rose

Pre

Tuyizere  zoe  Rowena

P.1

Ssentongo Felicia

P.2

Ityang Nicole Maria

Best swimmer

Nursery

Ankunda Kyle John

Kinder

Akisa Ariella Moriah

Pre

Asasira  Kabumba  Ijuka

P.1

Oseku Evans

P.2

Kagina Nathaniel

Actor of the year

Kinder

Ndugwa Isaac

Pre

Atugonza Ethan

P.1

Opio Okello Nathan

P.2

Busuulwa Sharif

Actress of the year

Kinder

Nakaggwa Irene

Pre

Itungo Gabriella

P.1

Nayiga Hannah

P.2

Uwimana Pauline

 

 

 

Most outstanding dancer

Nursery

Kirabo Mary Joselyne

Kinder

Ankunda Praise

Pre

Kajumba Skyler Margret

P.1

Koowe Esther Tamara

P.2

Mirembe Gloria

Taking care of personal and school property.

Nursery

Mwiza Abigail Ariella

Kinder

Nakonde Abigail

Pre

Nambi Nikita

P.1

Siima Biraro

P.2

Burungi Milcah Butungisa

Most helpful pupil

Nursery

Nakabugo Stephanie Joanina

Kinder

Kalule Christian

Pre

Kitiibwa Ruth  Neriah

P.1

Akamanya Alvin

P.2

Mirembe Sarah

Environmentally responsible

Nursery

Mwiza Abigail Ariella

Kinder

Kabahuma Jeanne

Pre

Ndaula Keisha

P.1

Mwesigwa Benjamin

P.2

Katende Akram

Most confident pupil

Nursery

Evangeline Grace Jemera

Kinder

Ssanyu  Biraro

Pre

Namugalu Martina

P.1

Melissa Akayo Anyait

P.2

Olwol Elijah

Best class captain

Nursery

Kirabo Talia Sekidde

Kinder

Malele Raphael

Pre

Nangwe Munir

P.1

Kabarungi  Ianna

P.2

Nammande Alma

Most adjusted pupil

Nursery

Amanya Jayden

Kinder

Kiberu Deron

Pre

Ainebyona Trisha Mugabe

Most academically improved

Nursery

Kajubi Ethan Ellica

Kinder

Nakabugo Catherine

Pre

Mwinerugaba Musinguzi

P.1

Banadda Natheniel Bukenya

P.2

Nsanja Gabriel

 

Best pupil in drawing and colouring skills

 

Nursery

 

Kabarungi Brianna

Kinder

Mellisa Rinah Lufafa

Pre

Orwah Joshua

P.1

Nahire Hilda Sasha

P.2

Ahimbazwe Laetitia

 

 

Outstanding performer in the English language

P.1

Bampire Andrew Sydney

P.2

Mwanje Ethan

Outstanding performers in Literacy One

P.1

Asiimibwe  Elizabeth  Wangusa

P.2

Mwanje Ethan

Outstanding performers in Literacy Two

P.1

Sserumaga Ignatius

P.2

Mwanje Ethan

Best pupil in Mathematics

Pre

Mutatiina Pearl Treza

Outstanding performers in the internal Maths contest

P.1

Mwesigwa  Jordan

P.2

Mwanje Ethan

Academician of the year

Kinder

Mugulusi Ivy

Pre

Busingye Kiara Kyoma

P.1

Sserumaga Ingnitius

P.2

Mwanje Ethan
(P.3-P.7) AWARDEES
Category                    

Class

Name

Neatest pupils of the year

P.3

Kagoda Eliazer

P.4

Koliba Hannah

P.5

Kusasira Blaise                               

P.6

Nana Murungi

P.7

Antonia Lisa Talemwa

Pupils with the best handwriting.

P.3

Kirabo Neema Malayca

P.4

Mirembe Shalom

P.5

Mutatiina Princess

P.6

Sanyu Tryphosa Kitiibwa

P.7

Kisakye Shally Lukooya

Best readers of the year

P.3

Mutesi Shania Shatia

P.4

Kaburara Kisha Kakiiza

P.5

Aijuka Elvin

P.6

Ruhweza Luke

P.7

Murungi Grace

Swimmers of the year

P.3

Wanyakala Jonathan

P.4

Nakiyaga Divine

P.5

Mukisa Martha

P.6

Kagina Rodney

P.7

Nanteza Patricia Sonia

Actors of the year

P.3

Ikiriza Desh

P.4

Musinguzi David Zinzan

P.6

Kihumuro Jeremiah

Actresses of the year

P.4

Akello Mary

P.5

Kisakye Samalie

Outstanding dancers of the year

P.3

Nabulya Daisy Ruth

P.4

Mutesi Veronica

P.5

Makumbi Hellen

P.6

Murungi Dara

Taking care of personal and school property.

P.3

Baryaruha Phyllis

P.4

Taliru Jovia

P.5

Nakonde Desire

 

P.6

 

Atwine Lewin

 

P.7

 

Nakimuli Brianna

Most helpful pupil

P.3

Martha Divine Alinda

P.4

Nansasi Rand

P.5

Ahumuza Martha

P.6

Karabo Angel

P.7

Murungi Grace

Environmentally responsible pupils

P.3

Kalungi Alvin Tandeka

P.4

Ahumuza Jonathan

P.6

Nabumbo Sarah

P.7

Tracey Mirembe Williams

Most confident pupils

P.3

Oseku Ethan

P.4

Ivy Ssebadduka

P.5

Karungi Melisa

P.6

Mirembe Annjoy Mwebe

P.7

Muwanguzi Mattaniah . M

Best class captains of the year

P.3

Namuli Keza

P.4

Lule Ryan Pascal

P.6

Mwanja Solomon

P.7

Nakimuli Brianna  

Prefect of the year

P.4

Namataka Cissy

Most academically improved pupils

P.3

Josiah  Birulu.

P.4

Echoni Timothy

P.5

Chemarum Jonathan

P.6

Magomu Abdul Hafiz

P.7

Mugabi Ernest

Best pupils in drawing and colouring skills

P.3

Seguya Nicole

P.4

Musiime Cinderella

P.5

Kategaya Andrew

P.6

Joshua Kahesi

P.7

Murungi Izabel Nakate

Best pupil at English language

P.3

Nabukenya Lorraine

P.4

Mwavie Romaan

P.5

Mutatiina Princess

P.6

Nabaasa Deborah Ritah

 

P.7

 

Angel Destiny Walakira

Best pupil at Integrated Science

P.3

Ochodi Godwill

P.4

Atuhaire Stephen

P.5

Mutatiina Princess

P.6

Mwanja Solomon Samuel

P.7

Talemwa Yakobo Rwabaingi

Best pupil at Social studies

P.3

Lukwago Hans

P.4

Kaburara Kisha Kakiiza

P.5

Mutatiina Princess

P.6

Mwanja Solomon Samuel

P.7

Angel Destiny Walakira

Mathematicians of the year

P.3

Namuli keza

P.4

Atwongire Brenaan

P.5

Mutatiina Princes

P.6

Kanyike Ambrose

P.7

Talemwa Yakobo Rwabaingi

Outstanding performers in the internal Math contest

P.3

Mwanje Joshua

P.4

Ayebare Benjamin

P.5

Mutumba Joshua

P.6

Asasira Able Duncan

P.7

Angel Destiny Walakira

Best performer  in the National Math contest

P.7

Muwanguzi Mattaniah . M

Sports personality of the year

P.6

Nanyonjo Victoria

Outstanding Mathematician of the year

P.4

Atwongire Brennan Boma

Overall academician of the year

P.3

Namuli Keza

Greenhill pupil of the year.

P.7

Nanteza Patricia

Ubuntu award

P.6

Mugume Paul