Primary School Prefectorate swears in
GHA PRIMARY KIBULI SWEARS IN NEW PREFECTS
The 27th May 2018 saw the incoming Greenhill Academy Primary Kibuli prefects 2018/2019 sworn in into power.  The event colored by a beautifully designed stage, a breathtaking praise and worship session, eye-catching presentations and memorable speeches from the extremely confident outgoing and incoming leaders left the audience mesmerized.
In her words, the outgoing Head girl, Catherine Nakiyingi thanked God and all those who gave her the opportunity to lead. She highlighted that her term in office has taught her that leadership does not mean to assume power but is a beautiful opportunity to serve others. She went on to also advise the incoming leaders to work as a team, have a listening ear and be servant leaders. 
This intriguing speech was then followed by another equally moving speech from the incoming Head boy Joel Kimuli, who stressed the fact that Leadership comes from God and urged all the leaders that had been sworn into power to use the time they will be as leaders to effect the best change there is.
In attendance was the Finance Director of Greenhill Holdings and Guest of Honor of the event, Mr. Serufusa Nathan James. As the Rector, Mrs. Maraka Joy Veronica invited the Guest of Honor to deliver his speech she urged the incoming leaders to work as a team while referring to one of the fundamentals of leadership, "If you can remember that WE did it rather than I".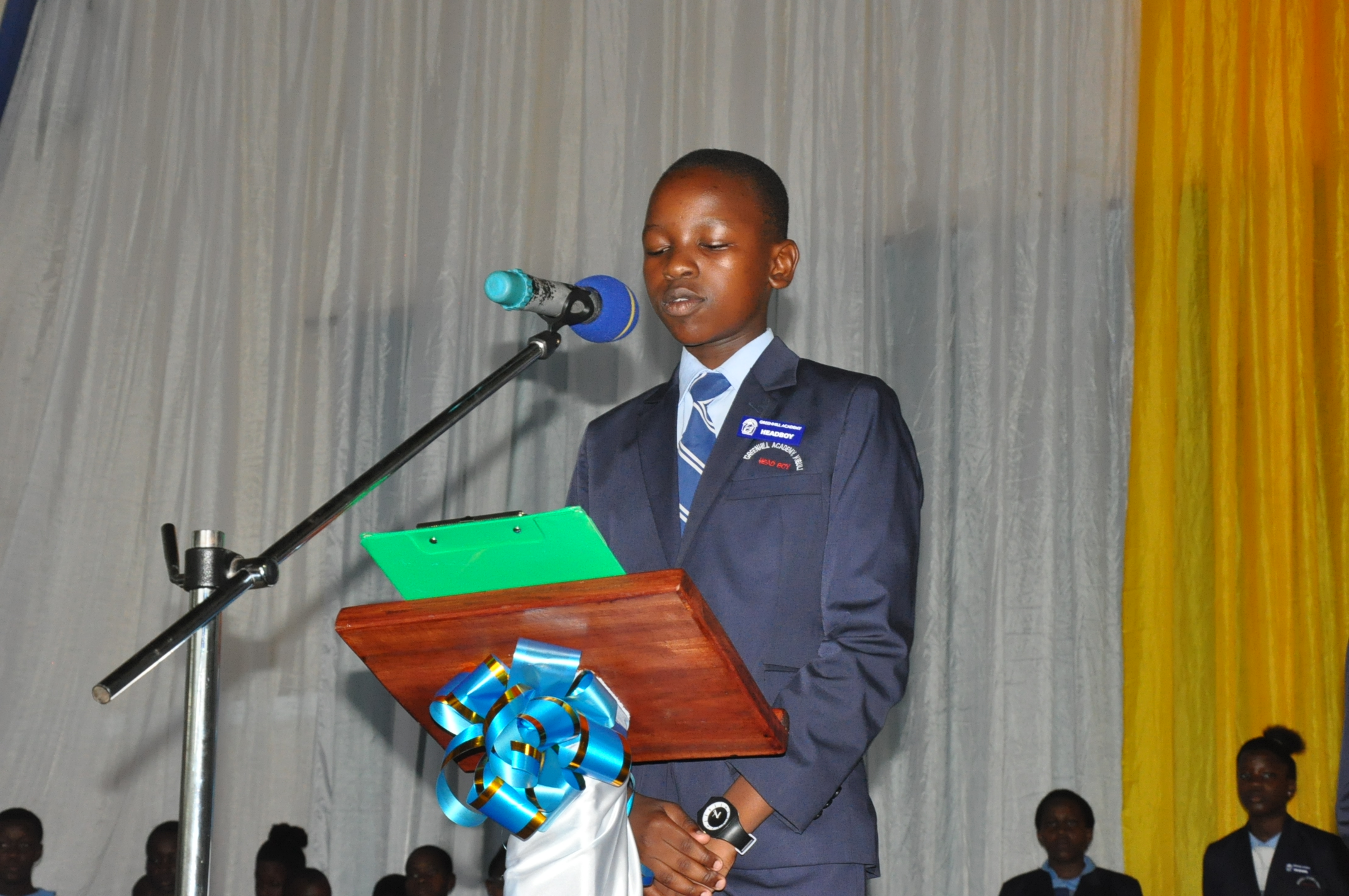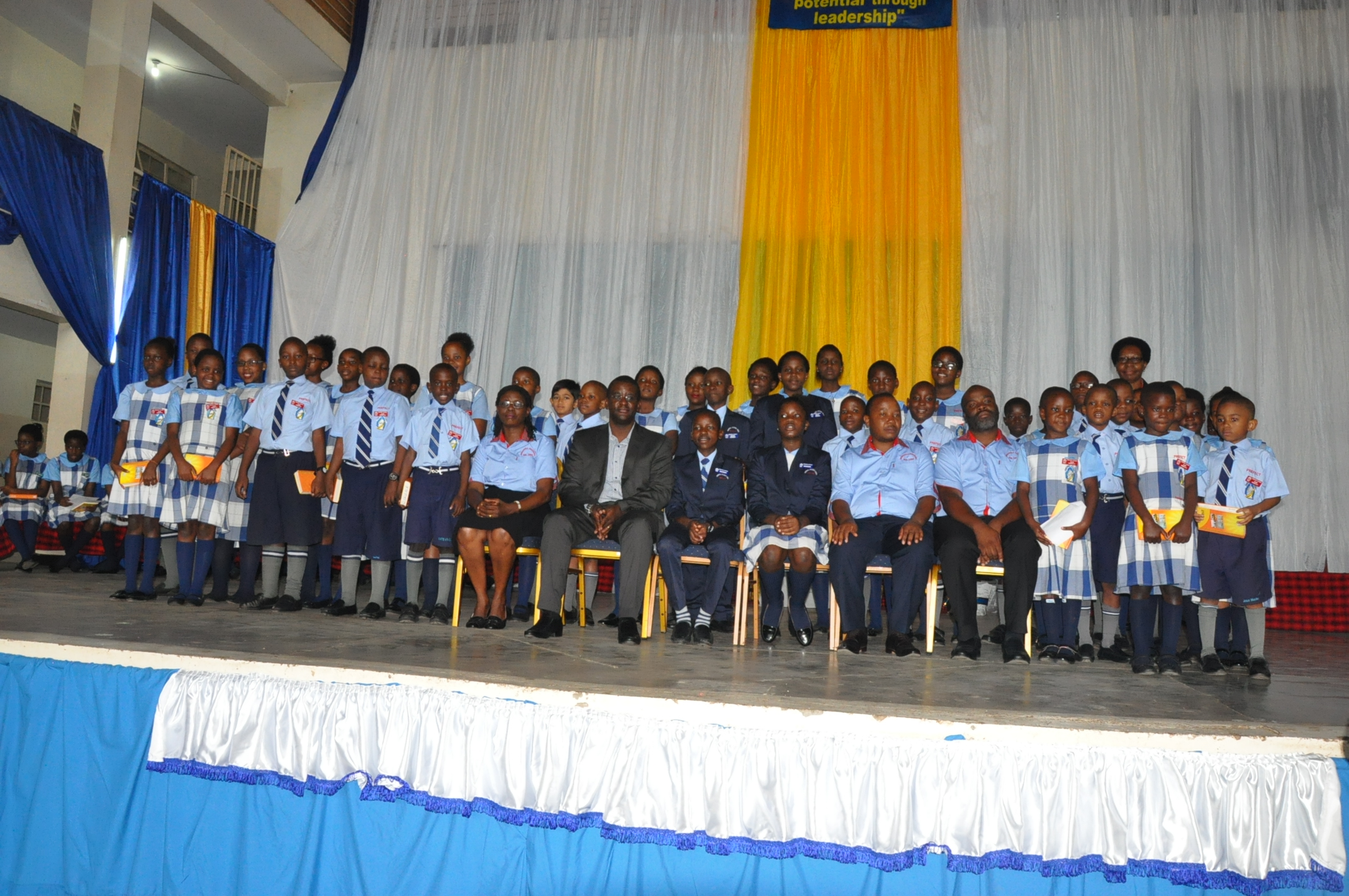 The Guest of Honor, Mr. Serufusa's speech highlighted on the great aspects one of the most popular leaders on earth, Alexander the Great had. Alexander was ambitious and courageous and led by example. He urged the incoming prefects to set the right example if they want to build the credibility and gain respect from others. To be a good leader, one should demonstrate the behavior they want people to follow that is; they should have integrity; communicate effectively; make fast decisions; show gratitude and be able to motivate and inspire others. As He concluded his speech, He urged the prefects to go out and be the very best leaders they can be.
Below is a full list of the incoming prefects led by the Head boy, Joel Kimuli and Head girl, Cayla Namuwaya. We congratulate you all.
CLASS PREFECTS
No

NAME

STREAM/

CLASS

 

Primary One

 

1

NAMUYANNJA RANIA KITIBWA

BLUE

2

MWESIGWA IAN

GREEN

3

GABRIELLA BABIRYE

PURPLE

4

MIREMBE KAREN GESSA

RED

5

JASON MUSOKE

YELLOW

 

Primary Two

 

6

ALIZA SARAH KAYLA

BLUE

7

ARINAITWE MORRIS

GREEN

8

SOOMA TAJ

PURPLE

9

BABIRYE FAREEHA MUNABI

RED

10

OKWERE ETHAN

YELLOW

 

Primary Three

 

11

AYESIGA EDAN

BLUE

12

ETHAN MBAFUGA

GREEN

13

KATO ARNOLD

PURPLE

14

MIREMBE FAITH

RED

15

SEAN PAUL SENTALE MUGISHA

YELLOW

 

Primary Four

 

16

KAYCE NANYONJO

BLUE

17

MAZEREBA JOHN PATRICK

GREEN

18

SERUYANGE HENRY

PURPLE

19

LUTABI MARK

RED

20

MALE LEON MARY

YELLOW

 

Primary Five

 

21

KARENZA OBWANGA

BLUE

22

MIREMBE MUGABI BELINDA

GREEN

23

MIRIAM NAJJUMA

PURPLE

24

NAGUJJA JOANNA

RED

25

GLADYS NKWENGE

YELLOW

 

Primary Six

 

26

ANISHA NAMPEERA

BLUE

27

PATEL CHAITANYA

GREEN

28

MICHELLE NABATEREGA

PURPLE

29

DRUSCILLA MANYANGWA

RED

30

ELIZABETH AKAKWINI

YELLOW

 

Primary Seven

 

31

KIRABO WINNIE

BLUE

32

MUFUMBIRO DANIEL

GREEN

33

KABALEGA MIJUMBI

PURPLE

34

MATILDA MUTONI

RED

35

ATUKUNDA DESIRE

YELLOW
OTHER PREFECTS
No

NAME

STREAM/

CLASS

 

FOOD AND SANITATION

 

36

MERLYN KIWEWA

P.4 GREEN

37

DENISE NABAKKA

P.6 PURPLE

 

DISCPLINE

 

38

MUSA SSEKAANA

 

39

HANNAH NALWANGA

 

 

ASSEMBLY, DANCE AND DRAMA

 

40

DACIA MURUNGI

P.5 YELLOW

41

HAZEL ABAHO

P.5 RED

 

LAITY

 

42

DANIEL NYAGAYA

P.6 PURPLE

43

MYRA KEIZIREKWERA

P.6 PURPLE

 

GAMES AND SPORTS

 

44

ESTHER NANGENDO

 

45.

PHILLIP JASON MUSIIME

P.4

 

ENVIRONMENT AND WILDLIFE

 

46.

AMBER JINGO

P.6 PURPLE

47.

RIANA MUZIBU

 

 

INFORMATION AND SCHOOL PROPERTY

 

48.

SHEEBAH KOBUGABE

P.6 RED

49.

SONIA AGABA

P.6 PURPLE

 

HEAD MONITOR/ TIMEKEEPER

 

50.

JOSHUA OSIRU

P.6 PURPLE

51

AMELIA GRACE KYOSHABA

P.6 PURPLE

 

SOCIETIES AND CLUBS

 

52

CRAIG JAMWA

 

53

RHEMA DUKU

P.6 PURPLE

 

BOARDING PREFECTS

 

54

KEMIGISHA BAINE

P.6 PURPLE

55

KIIZA HANNAH

P.6 BLUE

56

JORDAN MULANGIRA

 

 

ACADEMIC PREFECTS

 

57

LUMALA SAMEERAH

P.6 PURPLE

58

KUHEISA SHAUN

 

 

DEPUTY HEAD GIRL

 

59

NICOLE ASHABA

P.6 BLUE

 

DEPUTY HEAD BOY

 

60

LUKODA ARTHUR

P.6 PURPLE

 

HEAD GIRL/ HEAD BOY

 

61

CAYLA NAMUWAYA

P.6 PURPLE

62

JOEL KIMULI SENGENDO

P.6 PURPLE