GHA BUWAATE PRIZE AWARD 2019
On the 2nd and 3rd of October 2019, our Primary Buwaate Campus, held its lower section (Nursery to Primary two) and upper section (Primary three to Primary seven) prize award ceremonies respectively. The lower section's ceremony that was also highlighted by breathtaking presentations from the pupils under theme, I AM THE BEST was graced with the presence of the Head of Finance Greenhill Schools, Mrs. Halima Mutabaazi as the Guest of Honor.
Mrs. Halima Mutabaazi who awarded certificates to the academicians of the year in this section who were; Satyana Lyezibwe Maria (Pre-B); Mugulusi Ivy Edith (P.1 Y); and Mugalu Abigail (P.2 R) encouraged the pupils to always aim for the best and to never tire in achieving the best.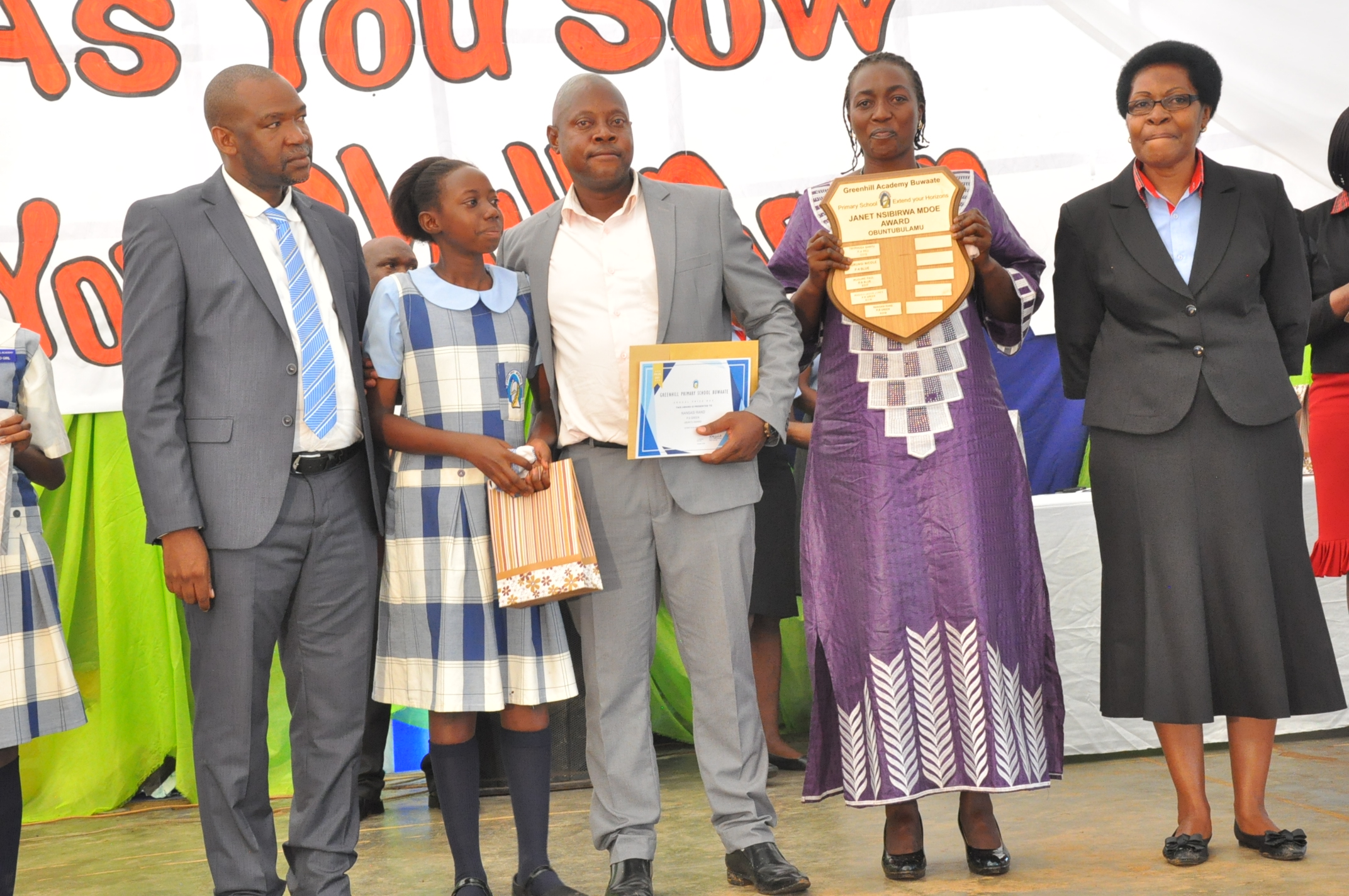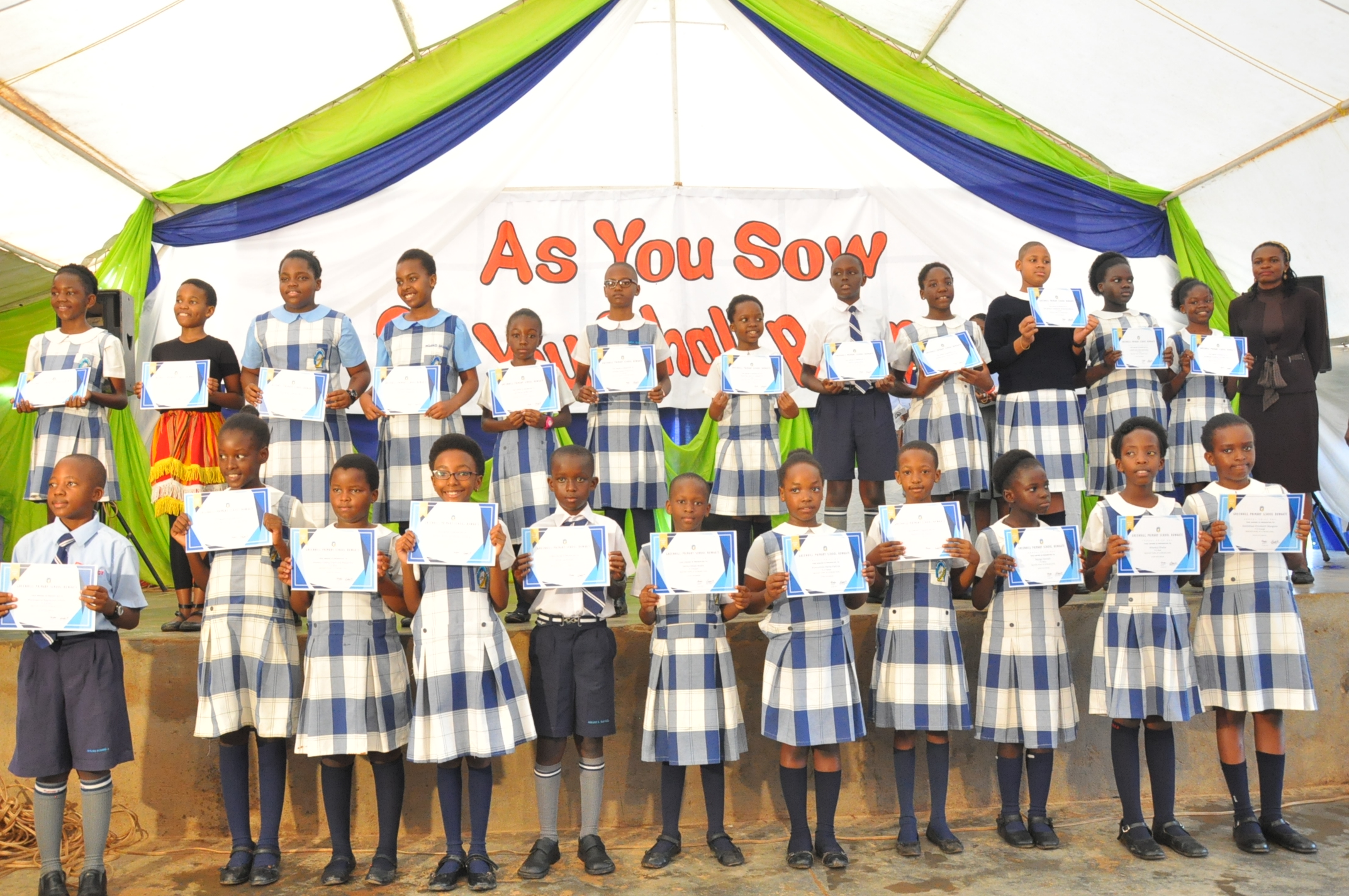 The lower section's prize award was then followed by the upper section's ceremony held on Thursday 3rd of October 2019, under the theme, AS YOU SOW, SO YOU SHALL REAP. 
The Guest of Honor of the event was Mr. Francis Twesigawe, the Head of School-Greenhill Academy Secondary. In his speech, Mr. Francis encouraged the students to always aim for excellence, never to give up and to work hard in order to enjoy the fruits excellence brings. He also went ahead and awarded shields to the Greenhill Pupil of the year, Mutumba Aliwaali Joshua (P.7 Y) and the Ubuntu award winner Nansasi Rand (P.6 G).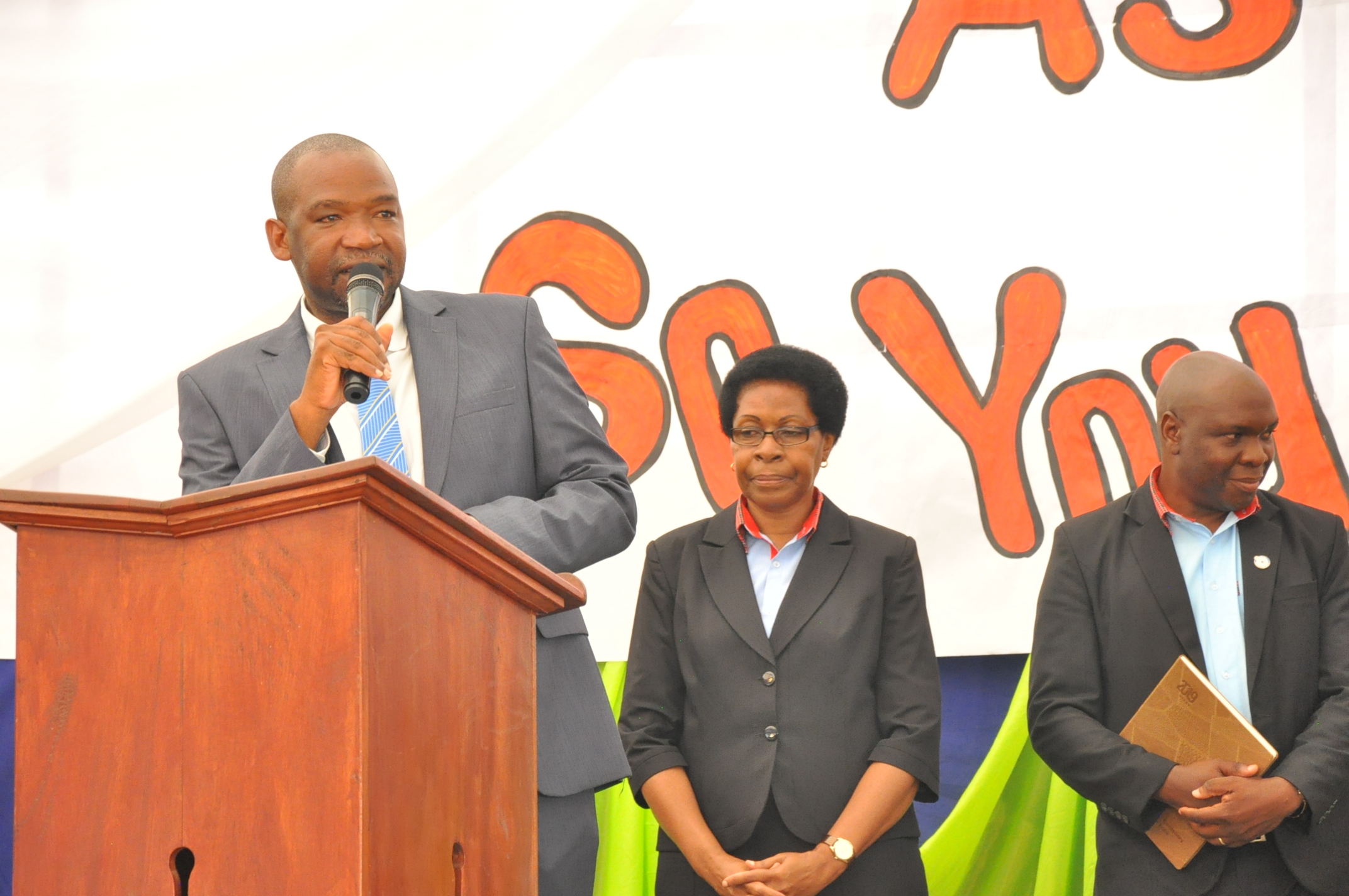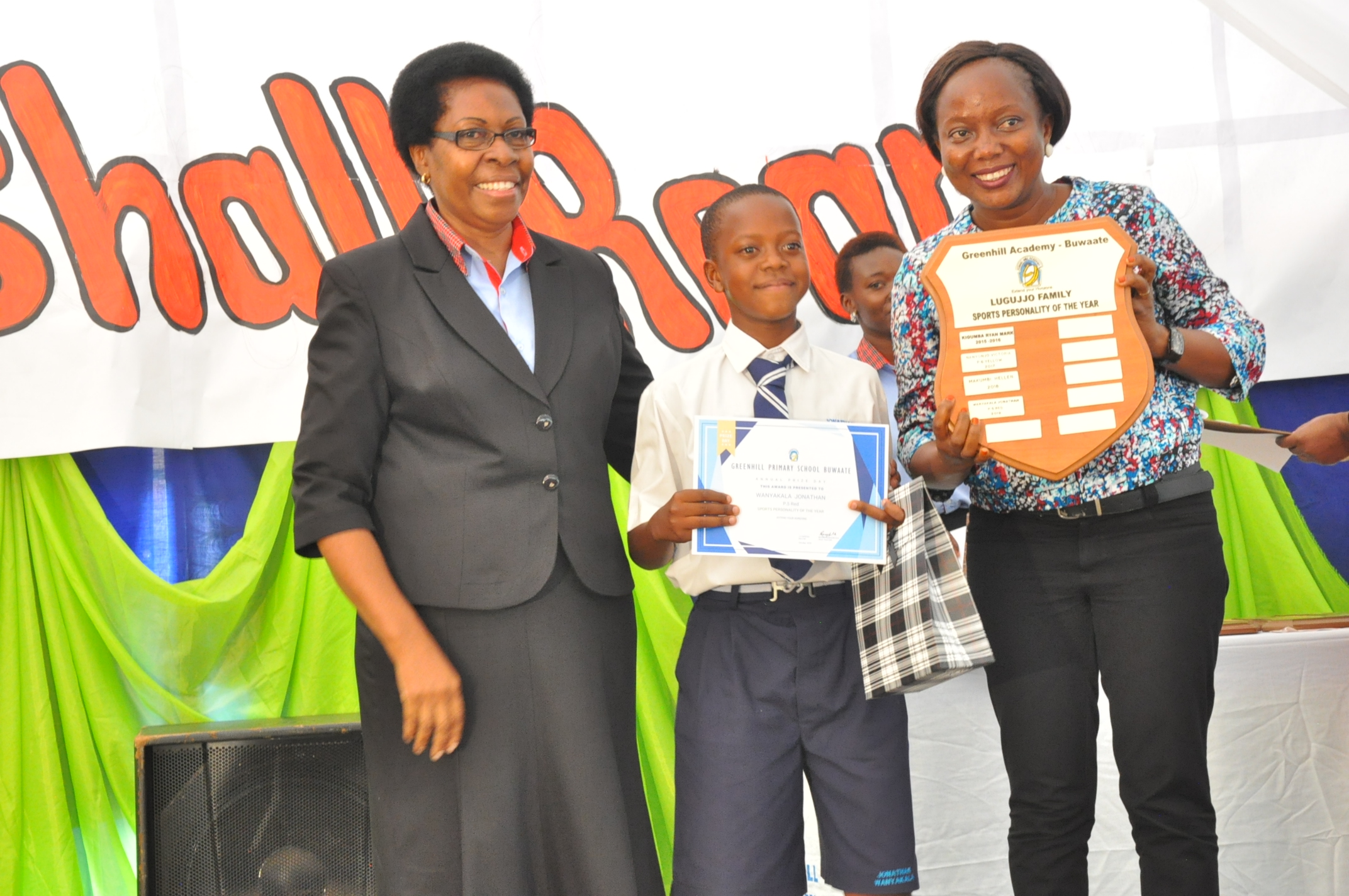 We would like to congratulate all the awardees of this year's prize awards and the teachers and parents that tirelessly work hard to ensure the students achieve such great heights of excellence. To those that were not awarded, we encourage you to keep working hard until you too are awarded a shield or certificate for your outstanding performance.
Below is the full list of all the awardees of the Greenhill Academy Primary, Buwaate Prize Award Ceremony 2019.
NURSERY-PRIMARY TWO AWARDEES
CATEGORY NAME CLASS

NEATEST PUPIL GIRLS
HAZEL ELIZABETH MWANJA N.B
KAMUKAMA MELANIE K.G
CHRISTIANA BENITA AKAO PRE.Y
MWESIGWA KASOZI MIGUEL P.1P
AYESIGA GRANT TITUS P.2P
BOYS
EDSON ELIJAH KATALO N.G
LERU ADAM RAPHAEL K.Y
ARINDA JACOB BYAMUKAMA PRE.G
NAKIYINGI DEBORAH JOY P.1G
NAKANWAGI NATALIE PATRICIA P.2R
BEST PUPILS IN AEROBICS BOGEZI RODNEY RAI KIZZA N.P
KATENDE ANDREA NICOLE K.Y
ATURINDA JORDAN BYAMUKAMA PRE-P
SSEWANYANA MARTINLUTHER P.1B
NKWANZI MAXINE P.2G
MOST HELPFUL PUPIL ARINAITWE ISAIAH N.B
JAYA BIRUNGI MATOVU N.R
KENDRICK PAUL NTENDE N.G
SHANICE LAURA NALUGO N.P
NAMUWAYA JOY CHRISTIANA N.O
NALUBOWA HANIFAH KAKANDE K.P
MUYAMBA ZOE AMAN K.Y
MBABAZI SHALOM KANSIIME K.B
KUGONZA LUKE RAY AKIIK K.S
MBANZA JEMIMAH HILDE K.R
KAMUKAMA MELANI K.G
EMILU ISABEL LOUISA K.O
KIRABO NOELLA PRE-P
AGIMBO GRACIOUS PRE-B
KIDDU JENINAH PRE-Y
NAKIBONEKA MARGARET CHLOE PRE-G
NANDINDA JOANA PRE-R
PUPIL WITH THE BEST DRAWING SKILLS SHEENA AUDREY MARI N.B
ATIILA MARIANA WANGUSA K.G
CHLOE ANGEL MIRIAM PRE-Y
AKAMPURIRA POLSEN P.1Y
JUMBA PEREZ P.2O
DANCER OF THE YEAR GAEL AVRIE MULINDWA N.R
FEEZA JUDE JUNIOR K.P
LIVNI ARIHO MUKIGA PRE-G
MASIRIWA GABRIEL P.1G
NANYONGA MIRIAM KEZI P.2P
MOST CONFIDENT PUPIL EDSON ELIJAH KATALO N.G
ATAUTI BLESSING EMMANUEL N.O
EPELU KWANZA EMUKULE N.B
ANKUNDA ARIANA MUGUME N.P
SSENFUKA LUCKY KENDRA N.R
ANKUNDA KEISHA RESTY K.R
MEGHAN MIC MANUELA K.O
NALULE NAJMAH K.P
KALEBBO JOEL CONIAH K.G
NGABIRANO REYNOLD K.S
MALAIKA ELSAH AKENA K.B
AYEBARE MATTHEW NKWASIBWE K.Y
MUYANJA JOSEPH SETH PRE-B
MOSHE GABAY PRE-Y
IVANKA KAYLER JACOBS PRE-P
OCHWO AIMEE LORRAINE PRE-G
HOUSTON STRATON BONAVENTURE PRE-R
ACTOR OF THE YEAR FEEZA JUDE JUNIOR K.P
LUMONYA COLE JACOB PRE.R
NANGUMYA JETHEN MUHOOZI P.1Y
MUWONGE MATOVU P.2B
ACTRESS OF THE YEAR ALINDA JASMINE NICOLE K.S
ANTONIA VENU KENTUGA PRE-P
BAGALA ABIGAIL NATALIE NKINZI P.1B
NDAGIRE ABIGAIL MAWANDA P.2Y
MOST ENVIRONMENTALLY RESPONSIBLE PUPIL MUKISA ELISHA N.G
GEN ALPHA EGWANG N.R
RAPHA MANZI ONGOM ABILA N.B
KIRABO SHANNEL ATALIA N.O
NAMULI JOVITAH VERAH K.S
AYESIGWA NATALIE ISHIIMWE K.B
MURUNGI MEDARD K.R
ASINGYA JOSHUA K.G
KAYDEN MUKURU MUROMBA K.P
CHRISTIANNA NISSI KAWADDWA K.Y
ACON JEROME WONDER K.O
TAMALE JESSE SSALI PRE-B
BAKKA ELVIS JOSEPH PRE-Y
OWEMBABAZI NOELLA PRE-P
NYUNYUZI FLAIRE PRE-G
MIREMBE ETHANIEL ABIGAIL PRE-R
SPELLERS OF THE YEAR
MALAIKA ELSAH AKENA K.B
ATUHEIRE DARLENE K.P
KANGABE MAAYA ALAINE K.G
ANKUNDA KEISHA REST K.R
SENGONZI TIMOTHY BRANDONN K.S
CHRISTIANNA NISSI KAWADDWA K.Y
DYLAN LUTONWA K.O
ABBA MATT SHINE MUGULUSI PRE-B
MUSABYI TABITHA RUTH PRE-Y
OTIM GABRIELLA PRE-P
SAMARA CHRISTINE PIMER PRE-G
IVY JOSH MUHANGI PRE-R
BEST PUPIL AT TAKING CARE OF PERSONAL PROPERTY ANYANZO MARY NOELLE N.B
BABIRYE SAMANTHA NAKAWESA K.O
ITAMBA NINKUSIIMA MUKAMA PRE-R
KENYANGE DIAZ BAGAYA P.1P
PARWOTH EVANGELINE PROSPER P.2P
BEST READER ATUMANYA DOMINION BWENGYE K.Y
NAMULI JOVITAH VERAH K.S
OHURIRE LISA K.R
KANGABE MAAYA ALAINE K.G
NAKIBOMBO ANNMARIE K.P
BUHUNGIRO ELISSA MUSINGUZI K.B
DYLAN LUTONWA K.O
SATYANA LYEZIBWE MARIA PRE-B
NAKIBUULE SAMANTHA KEVIN PRE-Y
KAMURASI DAVID KAYDEN PRE-P
SAMARA CHRISTINE PIMER PRE-G
MARK MUSIIME MWERU KIRYABWIRE PRE-R
PUPIL WITH THE BEST HANDWRITING NSANGI CHLOE LOUISA MARIA K.Y
ANYANZO SERAH MICHELLE PRE-Y
ADIL AKIZA BYARUHANGA P.1B
BABIRYE HANNAH NALUGYA P.2Y
BEST CLASS CAPTAIN KISITU RYAN PRE-P
MWAGALE LOY LUWEZE P.1O
MUGALU ABIGAIL P.2R
MOST ACADEMICALLY IMPROVED PUPIL KISAKYE JAEVEN PRE-R
MWESIGWA ADRIAN P.1G
MATTHEW KISA MUPERE KILYABWIRE P.2P
MOST HELPFUL PUPIL NAMUYIGA AMAL P.1R
MUGULUSI IVY P.1Y
KATONGOLE NATHAN P.1B
MUKISA SHALOM IVORY P.1O
BESIGYE JORDAN P.1P
MWESIGWA ISRAEL P.1G
MATSIKO JAYDEN P.2O
KAYESU MICHELLE NAMANYA P.2R
ETHAN ATWOREKA FRIEDMA P.2Y
DANIEL KEITH JACOB P.2G
SANYU KAYLA SEKIDDE P.2B
NAKADDU AISHA ALMA P.2P
MOST CONFIDENT PUPIL LWANGA HAYDEN LOUIS P.1Y
KASAKAMU ETHEL OSEKU P.1B
TENDO DAVID MUBIRU P.1O
NYAMUNGU JORDANA P.1R
KIRABO ADEL NANSASI P.1P
KIRABO KIMBERLY FAVOUR P.1G
AYEBAZIBWE CHLOE MARY P.2R
MURUNGI JANET KEZA JANET P.2Y
DANIEL KEITH JACOB P.2G
NEONA GABRIEL KAWADDWA P.2B
NAMAKULA ALLISON GABRIELLA P.2O
BIRUNGI KYOBE ASHLEY P.2P
MOST ENVIRONMENTALLY RESPONSIBLE PUPIL EMMANUELLA JAZLYN BUKULI P.1G
AYEBARE RENEE P.1Y
KATONGOLE NATHAN P.1B
BARAKA TIMOTHY P.1 O
KEMBABAZI KEYLIE ABIGAIL P.1R
MUGALURA MASUUDI P.1P
BIRUNGI ABIGAIL P.2Y
MUTUWA KEILA RUTH P.2R
NSUBUGA JEREMIAH CHRISTIAN P.2Y
AYENA JASON P.2G
DDUNGU FARHAN KALYAMAGGWA P.2O
RUJOGEZA JOSIAH P.2P
SPELLERS OF THE YEAR
ASHABA LISA P.1Y
JEMIMAH ELIZABETH OKELLO OPIO P.1B
ASHER OMEGA BAMWESIGYE P.1G
MITO JAYDEN DAVID P.1R
MWESIGWA KASOZI MIGUEL P.1P
MWAGALE LOY LUWEZE P.1O
BUSINGYE KYOMA KIARA P.2R
NAMBI HANA AALIYAH P.2Y
NEONA GABRIELLA KAWADDWA P.2B
MUGANGA JEREMIAH P.2G
SSALI DARIAN JOSEPH P.2P
NAHEREZA TINASHE BYAMAH P.2O
BEST READER JEMIMAH ELIZABETH OKELLO OPIO P.1B
KYEYUNE LISHA P.1Y
AGWER ASHLEY SHEMAINE P.1O
RUGYENE DAYLAN BARUGAHARE P.1R
NAKIYINGI DEBORAH JOY P.1G
NAMBI HANA AALIYAH P.2Y
KAYESU MICHELLE NAMANYA P.2R
MUWONGE MATOVU SENTOOGO JAWDAN P.2B
NAMAYANJA EMMANUELLA ETHEL P.2O
AKANDWANAHO MAYA KARABO P.2P
KAYESU HEIDI P.2G
OUTSTANDING PERFORMER IN THE INTERNAL MATHS CONTEST KYEYUNE LISHA P.1Y
BUSINGYE KYOMA KIARA P.2R
MATHEMATICIAN OF THE YEAR KYEYUNE LISHA P.1Y
AYINZA JEREMIAH OWEN P.2R
BEST PUPIL IN ENGLISH MUGULUSI IVY EDITH P.1Y
NAMATOVU ISABELLA JAYDEN P.2R
BEST PUPIL AT LITERACY ONE KYEYUNE LISHA P.1Y
BUSINGYE KYOMA KIARA P.2R
BEST PUPIL AT LITERACY TWO MUGULUSI IVY EDITH P.1Y
MUGALU ABIGAIL P.2R
ACADEMICIAN OF THE YEAR SATYANA LYEZIBWE MARIA PRE-B
MUGULUSI IVY EDITH P.1Y
MUGALU ABIGAIL P.2R
OVERALL ACADEMICIAN OF THE YEAR MUGALU ABIGAIL P.2R
(P.3-P.7) AWARDEES
CATEGORY CLASS AWARDEES
Neatest Pupil At Stream Level
P.3 ORANGE ASIIMIBWE ELIZABETH WANGUSA
P.3 RED AHEREZA SHEBA
P.3 BLUE NAYIGA HANNAH
P.3GREEN NAMIREMBE PAULA
P.3 YELLOW KOMUNTALE RANIA KAKIIZA
P.3 PURPLE SENTUMBWE NADLA
P.4 YELLOW AMANYA RAFAEL
P.4 RED MUHANUKA AINEMBABAZI HELENA
P.4 BLUE NKWANZI DAISY DIAMOND MASAMBA
P.4 PURPLE KISAKYE CATHERINE GLORY NSIIMA
P.4 GREEN MUTESASIRA RAYMOND JIMMY
P.5 YELLOW NAFULA KENDRA MANGENI
P.5 PURPLE NAMOMA HANNAH
P.5 RED LUHINDA VICTORIA
P.5 BLUE NGANZI SHARMA
P.5 GREEN NTANYA DOROTHY
P.6 YELLOW ALINDA QUEEN PRECIOUS
P.6 BLUE ASIIMWE ANILA KIRIBATA
P.6 GREEN ISAIAH MWESIGA
P.6 RED KABURARA KISHA KAKIIZA
P.7 GREEN NALWOGA TURNISHA ROSHAN AMILA
P.7 BLUE LAKER VALERIE RACHAEL
P.7 YELLOW ALININZE GABRIELLA ANN BIRULU
Best Pupil At Aerobics

P.3 ORANGE KIKONYOGO RYAN BENJAMIN
P.3 RED AHABWE MORGAN
P.3 BLUE KOLOTO AUSTIN JOHN
P.3GREEN NAMUYANJA TARANA SAMUELA MUKASA
P.3 YELLOW OWAMAANI BERNAH
P.3 PURPLE AKANKWATSA LYNETTE
P4 YELLOW ETYANG DAISY
P4 RED LWAMBA SOLOMON
P4 BLUE KENKWANZI SHIRLEY VALERIE
P4 PURPLE KALEMA KAYLA HANNAH
P4 GREEN KASEKENDE ETHAN ADRIAN TRAVIS
P5 YELLOW KITONE EMILLY ELEORA NAMIIRO
P5 PURPLE ARIYE BEATRICE AMBER
P5 RED ASIIMWE ISAIAH
P5 BLUE MANZI AKRAM
P5 GREEN MALABA MATHEW GABRIEL
P6 YELLOW NAKYANZI ALEXIA AGATHA
P6 BLUE AKELLO MARY
P6 GREEN SSEBADDUKA IVY
P6 RED BWIRE AMBROSE
P7 GREEN NZOU RUTH TUTU
P.7 YELLOW ACHOM JEAN ELIZABETH
P7 BLUE SEKIRAYI DANIELLA NAKYAMBADDE

Most Helpful Pupil At Stream Level

Most Helpful Pupil At Stream Level P.3 RED MIREMBE HANNAH
P.3 BLUE SEERA MICHAELA TEOPISTA
P.3 GREEN AARON KELVIN MWESIGWA KAJIK
P.3 YELLOW NABONA VICTORO KYASANKU
P.3 PURPLE DDEMBE MASEMBE
P.3 ORANGE NAHIRE HILDA SASHA
P4 YELLOW MULEDHU JULIANA RIYANNA
P4 RED KAWOOYA CHLOE THEREZIA
P4 BLUE MUKISA HAMLYN
P4 PURPLE MURUNGI LILIANA BYAMUKAMA
P4 GREEN MUGYENYI TAMBA
P5 YELLOW ALINDA MARTHA DIVINE
P5 PURPLE RWOT- MARA LAURA JASMINE OTIM
P5 RED MASAWI ELIZABETH AUDREY
P5 BLUE MIREMBE MARTHA FLORENCE
P.5 GREEN MUHOZA ISAAC KATEETE
P6 YELLOW APIO DOREEN AMWA
P6 BLUE GUM RITZ OTIM
P6 GREEN NANSASI RAND
P6 RED OWEMBABAZI TEKLA
P7 GREEN SSEMMANDA GODWIN VICTOR
P.7 BLUE MURUNGI NICOLE
P.7 YELLOW MAGULU JASON JONES JUDE
Pupil With The Best Drawing, Coloring Skills At Class Level
P.3 ORANGE NAHIRE HILDA SASHA
P.4 YELLOW AHIMBAZWE LAETITIA
P5 BLUE SEGGONA MEDARD LUBADE
P6 RED SSEMAKULA CELLA
Actor Of The Year At
(Class Level) P.3 GREEN AMARUMA CALVIN
P4 RED MASAGAZI ETHAN JUSTIN
P5 RED ASIIMWE ISAIAH
P6 RED BAMULUMBYE ISRAEL PRINCE KISAKYE
Actresses Of The Year At Class Level P.3 GREEN KAINE MANUELLA KAMUGISHA
P4 PURPLE KABUMBA AMARA BUSINGYE
P5 YELLOW BAMULUMBYE JEMIMAH KIRABO
P6 BLUE AKELLO JESSICA AWOII
Dancer of the year P.3 GREEN DONATELLA DIROSSO
P4 YELLOW NAMMANDE ALMA
P5 PURPLE NABULYA DAISY RUTH
P6 BLUE NDAGIRE JONELLE ELIZABETH
P7 BLUE MAKUMBI HELEN
Best Class Captain At Class Level P.3 GREEN KABACWEZI JEAN DESIRE
P.4 BLUE ETHEL TUSASIRWE MURUNGI
P.5 YELLOW LEONE AYO OLWA
P.6 BLUE THANDIWE RUTH KAGOWA
P.7 GREEN NAMUWULUZI DIANA ELEANOR
Prefects of the year P.3 ORANGE AJULU ISABELLA ROSE
P5 YELLOW MWEBESA KEISHA
P6 RED KASEWA EMMANUELLA

Spellers of The Year
P.3 ORANGE KIRABO PASSY
P.4 YELLOW ETYANG DAISY
P.5 PURPLE SSUUBI ETHAN EILAM ODWONG
P.6 RED SSEMAKULA CELLA
P.7 YELLOW KITUYI KEISHA MWASSA
Outstanding Performer In The Internal Math Contest Paper Two P.3 ORANGE BAKEVUGA KAIDEN ASIIMWE
P4 YELLOW SSEPUYA CURTIS LUCAS
P5 PURPLE TENDO ETHAN MUSASIZI
P5 PURPLE MULEME ERIC A
P.6 RED KIRUNGI IAN ROMACK
P.6 RED LULE RYAN PASCAL
P.6 RED BUKENYA CHRISTIAN
P.7 YELLOW MUTUMBA ALIWAALI JOSHUA
Best performer in the National Math contest P.7 YELLOW MUTUMBA ALIWAALI JOSHUA
Most Academically Improved Pupil
(stream level)

P.3 ORANGE AKWO VICTORIO KERON
P.3 RED ELLAN KELSEY WAFULA
P.3 BLUE KYOSIIMYE ABIGAIL
P.3 GREEN NAMUYANJA TARANA
P.3 YELLOW NABONA VICTORO KYASANKU
P.3 PURPLE NAKADDU AISHA ALMA
P.4 YELLOW KAWUMI VICTORIA
P4 RED MUKISA FAVOUR
P4 BLUE JAISON ZAABU KAYONGA
P4 PURPLE MWANJA SILVER JEREMIAH
P4 GREEN MILUNDI VICTOR JJUMBA
P5 PURPLE ATUKUNDA DESTINY
P5 GREEN NAMAKULA ANNABEL
P5 YELLOW SSALI ALPHA MUKISA
P5 BLUE PRESTON NORBERT VUNNI
P.5 RED BUKAWA SHALOM DEOGRATIAS
P.6 GREEN KISAKYE PARIS
P.6 YELLOW LUKWAGO GODFREY THEODORA
P.6 BLUE SEMUGOMA TENDO JAMES
P.6 RED WAMONO ARIELLA RUTH
P.7 GREEN MUSANI JOEL
P.7 BLUE OGWEL ANGEL AYO
P.7 YELLOW KIRABO CANDACE LWETABE
Best In Integrated Science
P.3 ORANGE ODOCH AARON
P4 YELLOW MWANJE ETHAN
P.5 PURPLE OCHODI GODWILL
P.6 RED IRANKUNDA ELIZABETH
P7 YELLOW MUTYABA JOSEPH KIZITO
Best At Social Studies
P.3 ORANGE KIRABO PASSY
P.4 YELLOW KWERA ETHEL TUGUME
MAGUTI DIANA LEAH
P.5 PURPLE LUKWAGO HANS
P.6 RED BUKENYA CHRISTIAN
P.7 YELLOW OGWAL KIMBERLEY

Best At English
P.3 ORANGE PINTO MARIE MUHWEZI
P.4 YELLOW ETYANG DAISY
P.5 PURPLE NAMULI KEZA
P.6 RED PRIMA MENDRE LISA
P.7 YELLOW OGWAL KIMBERLEY

Mathematicians Of The Year P.3 ORANGE ASIIMIBWE ELIZABETH
KIRABO PASSY
P.4 YELLOW MWANJE ETHAN

P.5 PURPLE
NAMULI KEZA
AHEREZA RAYNA MARIA
P.6 RED ATWONGIRE BRENNAN BOMA
P.7 YELLOW MUTUMBA ALIWAALI JOSHUA
Best At Kiswahilli

P.3 RED ASIIMWE MELISSA NKWASIBWE
P4 YELLOW NGONZI NEEMA LUGALA
P5 PURPLE ATUKUNDA DESTINY
Academician of the year
P.3 ORANGE KIRABO PASSY
P4 YELLOW MWANJE ETHAN
P5 PURPLE NAMULI KEZA
P6 RED PRIMA MENDRE LISA
P7 YELLOW OGWAL KIMBERLEY
Best performer in the National Math contest
P.7 YELLOW
MUTUMBA ALIWAALI JOSHUA
Sports Personality of The Year
P.5 RED
WANYAKALA JONATHAN
Overall Mathematician Of The Year

P.6 RED

ATWONGIRE BRENNAN BOMA
Greenhill Pupil Of The Year
P.7 YELLOW MUTUMBA ALIWAALI JOSHUA
Obuntu Award
P.6 GREEN NANSASI RAND