+256-41-4342684 info@greenhillacademy.ac.ug
News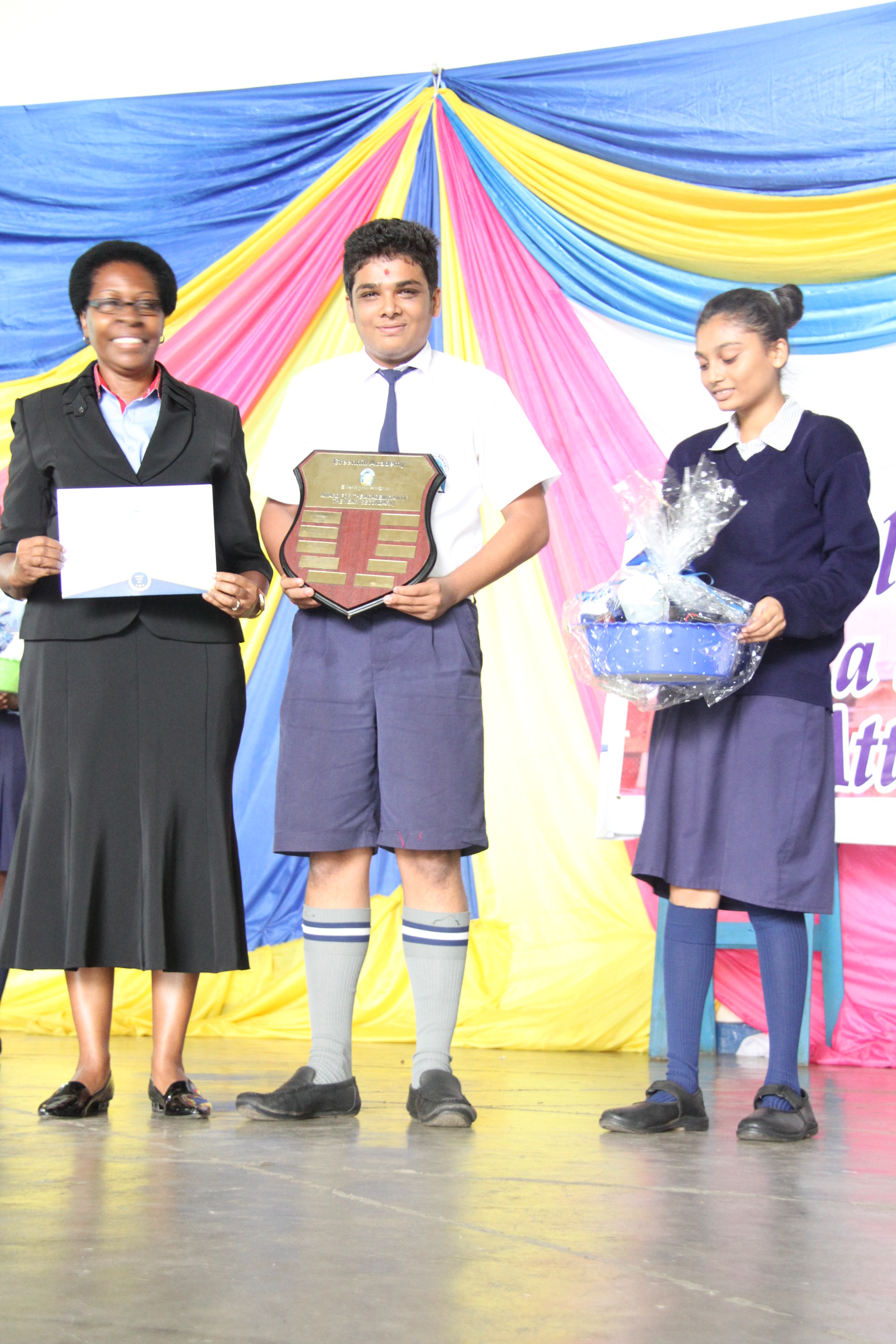 Every year, the Greenhill Academy Secondary students that have excelled in both academic and non- academic aspects are awarded during the 'Annual Prize Award Ceremony'. The categories awarded include; outstanding students in games such as, swimming, rugby, football to mention but a few; outstanding performing artist; most supportive student and parent, most academically improved student; sports personality of the year; mathematician of the year; academician of the year; Greenhill student of the year; Ubuntu award winner to mention but a few.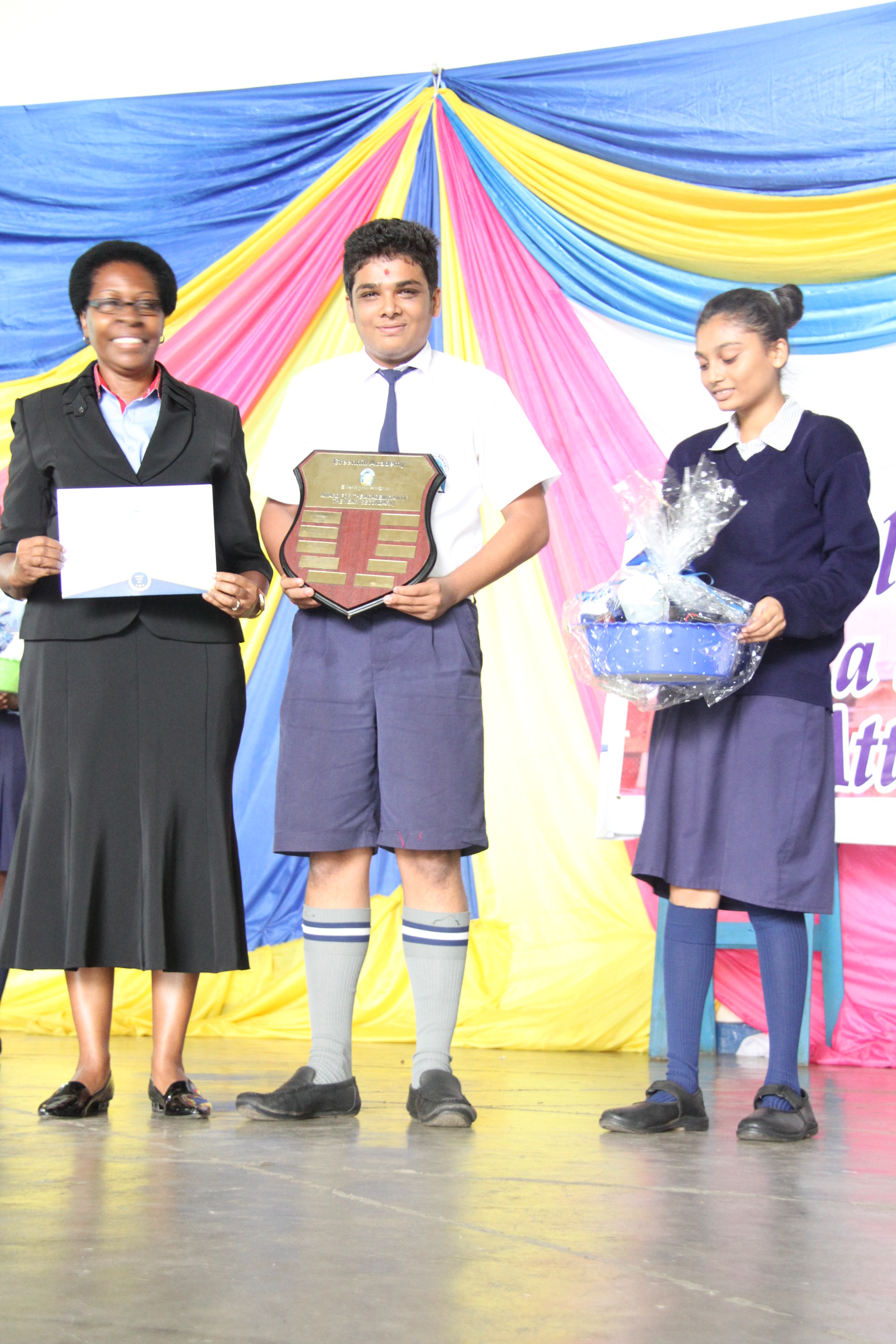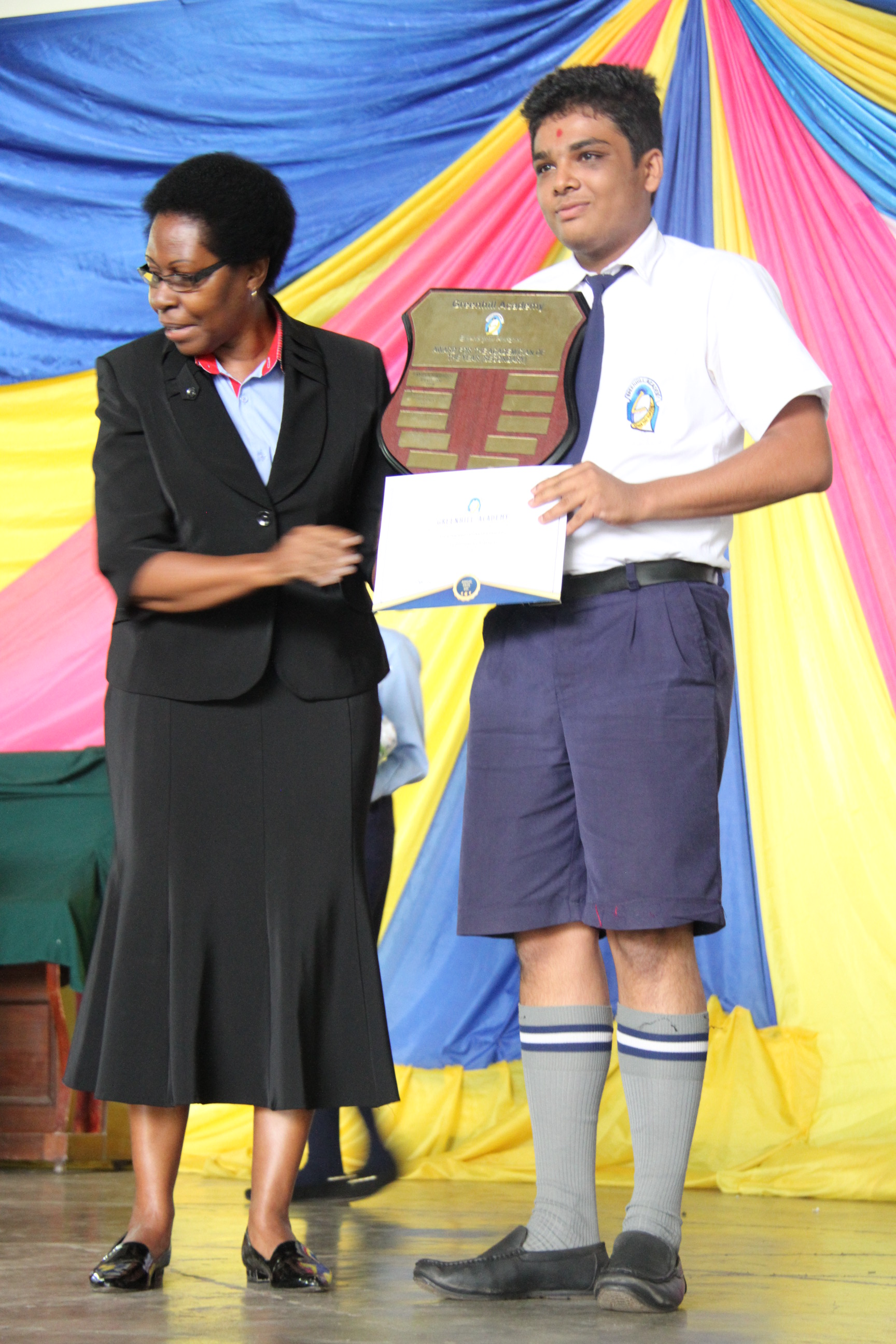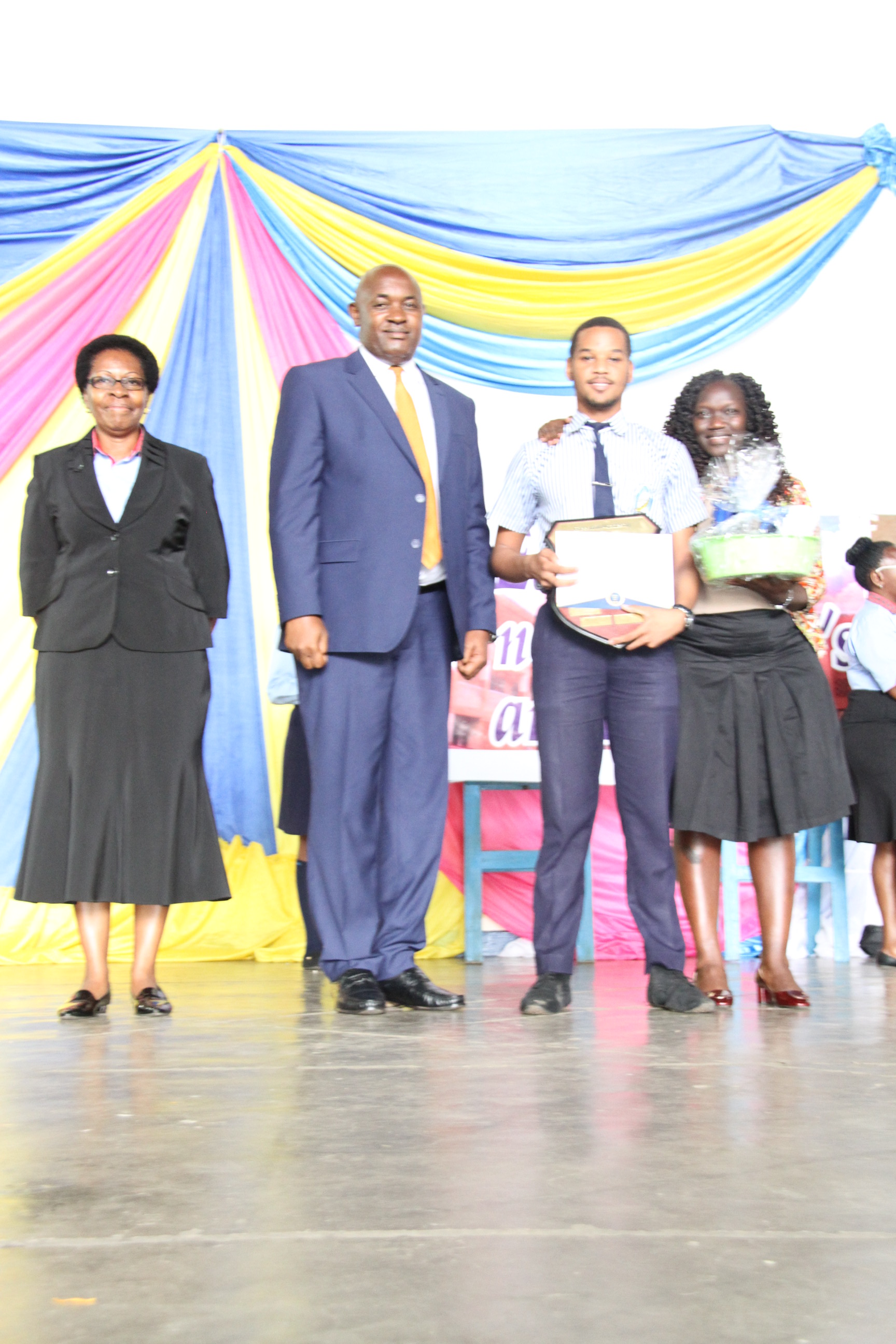 This year's prize award held on the 30th of September 2019 themed, 'Excellence is not a skill, it is an Attitude' had, Hon. Chris Baryomunsi, the State Minister for Housing-Government of Uganda as the Guest of Honor. Introduced by the Rector, Mrs. Joy Veronica Maraka, the Guest of Honor thanked all the parents who were in attendance during the ceremony; urged the awardees of the ceremony to treasure their awards and certificates as these distinguish them from their peers and can be of great importance in their future and; encouraged the other students who had not been awarded to aim to be awarded during the next prize award ceremony.
During this year's ceremony, the most supportive parent, Mrs. Linda Ochieng was recognized and, the students who won the most prestigious awards of the day who were; Karla J. Mugisha (S.1) who scooped the Sports Personality of the Year for steadily managing to balance her academics with sports and leading the school to victory in various swimming competitions; Kyabaggu Mark (S.6) who emerged the Mathematician of the year; Chris Gregory (S.6) who won the Student of the year award for depicting the all-round and responsible student Greenhill seeks to groom; Taremwa Ezra Stone (S.6) who won the Ubuntu award for his humanity, humility, pro-activeness, helping hand, responsibility to mention but a few aspects he possesses and; Vekariya Shubham(S.4) who scooped the Academician of the year award for consistently performing highly.
We congratulate all the awardees. Below is a full list of the winners of this year's Secondary School prize award ceremony.

Award AWARDEES
BOY GIRL
1.
COMMENDATION:
Year Group Positive Influence Abbas Alfonse S.4B
Moun Mariano David S.4B
Moses Ahmed Omer S.4B Akwiine Samantha S.4B
Key Board Players Cephus Diggs S.3B
Kyabaggu Mark S.6 SCIENCE
Debate at National level Mayeku Richard S.6 LIT/DIV
Kakembo Monica S.6 LIT/DIV
Karungi Moreece Onama S.6 SCIENCE
Masaba Brionny S.6 LIT/DIV
Presenting unique contemporary pieces of poetry. Muyeti Jonathan S.6 LIT/DIV
Active Participation in the Ugandan National Swimming team (East African Secondary Schools games; Arusha, Tanzania-2019) Chris Gregory S.6 SCIENCE
Ssemaganda Sasha S.5 LIT/DIV
Kimuli Trevor S.5 LIT/DIV
Ampaire Namanya S.3R
Daudi Ochieng S.3R
Ahimbisibwe Daniel S.3R
Mulumba Micheal Hall S.3B Tendo Mariam S.6 LIT/DIV
Kwagala Nicole S.5 MATH/GEOG
Awori Natasha S.5 MATH/GEOG
Atoo Esther S.2B
Kakembo Victoria S.3B
Karla Mugisha S.1B
2 Best Male Swimmer of the Year
Best Female Swimmer of the Year Chris Gregory S.6 SCIENCE
Tendo Mariam S.6 LIT/DIV
Best Basketball Player of the year Solomon Forh S.3B
Best Rugby Player of the year Ladu Wani S.6MATH/GEOG
Best Football Player of the year Ahari Dennis S.4R
3. Sports Male Personality of the year
Sports Female Personality of the year Daudi Ochieng S.3B
Mugisha Karla S.1B
4. Outstanding Performing Artist of the year Mpanda Samuel S.4B
5. Outstanding School Envoy/ Marketer of the year Karla Mugisha S.1B
6. Neatest 'O' Level Male Student of the year
Neatest 'O' Level Female Student of the year Ahimbisibwe Daniel S.3R
Kizito Chelsey Charlene S.4B
7. Neatest 'A' Level Male Student of the year
Neatest 'A' Level Female Student of the year Mashandich Trevor S.5 SCIENCE
Elizabeth Baryomunsi S.5 LIT/DIV
8. Most Adjusted Foreign Student of the year Jane Zhao S.3B
9. Ardent Student For All School Programs Taremwa Ezra S.6 LIT/DIV

10 Library Award
Best Library User 'O' Level.
Best Library User 'A' Level.
Baliyo Nicholas S.6 LIT/DIV
Arach Esperanza Lomana S.4B
11 Ardent Reader Of The Year Deng Ageer Moses Makur 2R
12 Outstanding Club Member of the year Keza Christabell S.3B
13 Outstanding Public Speaker of the year Mayeku Richard S.6 LIT/DIV
14 Outstanding Assembly Presenter of the year Hamisa Faruki S.5 SCIENCE
15 Most Persevering Student of the year Namiiro Lynn 4R
16 Fine Artist of the Year. Simon Bigoa S.4B
17 Outstanding Socially Responsible personality of the year Ingima Sandra S.6 LIT/DIV
18 Most Disciplined Student of the Year. Makana Makuda S.6 SCIENCE
19 Most Supportive Student of the year Ronnie Ninziza S.5 MATH/GEOG
20 Most Supportive Parent of the year Mrs. Linda Ochieng
21 Student Leader of the year Swatang George 6G/M
22 Most Academically Improved Students.
'O' Level
'A' Level
Nyang Andrew S.5 SCIENCE
Nyanjuba Gatwech Gang S.3R
23 Academicians For Each Year Group.
Senior One
Senior Two
Senior Three
Senior Four
Senior Five
Senior Six

S.4-Shubham Vekariya
S.5-Kavuma Jeremiah
S.6- Nicholas Baliyo
S.1-Rawat Batul
S.2-Mary Kellis Mugisha
S.3- Vekariya Avanti
24 Outstanding Sports Personality of the year Karla Mugisha S.1B
25 Mathematician of the Year. Kyabaggu Mark S.6 SCIENCE
26 Academician of the Year Shubham Vekariya S.4B
27 Student of the Year. Chris Gregory S.6 SCIENCE
28 Ubuntu Student of the year Taremwa Ezra S.6 LIT/DIV